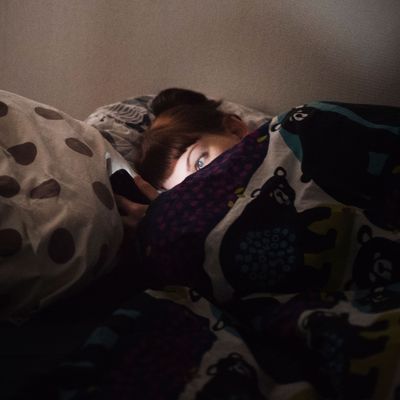 Photo: Jukka Aro / Folio/Getty Images
"Text me," I tell my husband as he heads to the airport for a week of comedy shows in Indianapolis. "Call me. Skype me. FaceTime me. I don't really use Snapchat, but do that, too." I know I should be telling him to break a leg, but I can't help giving him a detailed to-do list for how to be in communication with me at all times. Because, thanks to the world of constant connectivity in which we live, he can be.
"Okay, babe," he says. "I'm going to communicate every way there is. I'm going to Facebook you. I'm going to MySpace you. I'm going to create a new profile that pretends to be you."
I laugh, hug him one last time, and finally let him leave. As the door shuts, I hold my phone to my heart like the significant-other surrogate it has temporarily become.
Then again, who am I kidding? Even when my husband and I are in the same city, I'm basically dating my phone. We all are. Consider the 2014 Baylor University study that showed college women spend ten hours a day on their cell phones (top activities: texting for 94.6 minutes, emails at 48.5 minutes, Facebook for 38.6 minutes, internet at 34.4 minutes and music for 26.9 minutes).
I decide to take action, calling several girlfriends who have done the LDR thing both in short stints and for longer stretches. They assure me a week is nothing, and even months can be nothing if the commitment is there.
Almost 3.5 million married couples in the United States live apart, and a 2014 study proved there really isn't much difference between an LDR and a regular relationship, ultimately concluding that "individuals in long-distance dating relationships are not at a disadvantage." Even better news: A Cornell study from the previous year found that some distance can actually result in less "psychological aggression toward one's partner."
As we talked and texted on the subject of "phone dating," my girlfriends were kind enough not only to avoid laughing at my short-term separation but also to share their best tips for getting through it. Turns out, in the case of long-distance relationships, being attached to the phone can bolster intimacy rather than sabotage it. Here's how.
Let Big Brother work for you. "One of the best ways to cut down on angst in a long-distance relationship — or one in which you often travel separately — is to turn on the 'share my location feature' on my iPhone," says my friend Alison Freer. "That way, you know when someone's landed safely, made it back to their hotel, or busy in a meeting. It cuts down on those endless 'did you make it?!' texts and frees up limited communication time for far more interesting things."
Speaking of interesting things, let Big Vibrator work for you, too. My pal Katrina Reese is also in a relationship with a comedian who's frequently on the road, and she's become a big proponent of "Bluetooth adult toys." I quickly got my hands on a WeVibe, and when my husband and I connected later that night, he used the app I made him download to cause vibrations down there.
If vagina-stimulating apps aren't your jam, check out the many PG-rated apps out there dedicated to long-distance couples (everything from simultaneous vibrations that mimic hands touching when fingers sync on screens, to lovey-dovey doodles you can send straight to someone's home screen and celebratory countdown timers until your big reunion).
Set times to be in touch. This rule comes courtesy of the brilliant Jenny Hutt, who has been happily married for 21 years. "We have an agreement that all texts get a response within 30 minutes," she says. "Response can be 'got it' or 'I love you' or 'I can't talk.' The message is irrelevant; I just need proof of life."
My friend Katrina, who has been in an LDR for three years, doesn't have the 30-minute rule, but she and her boyfriend do have the three-days-a-year rule: "When we first started dating, he told me he will always be home on my birthday, our anniversary, and Valentine's Day."
And my friend Francesca Lyn (who actually coined the phrase "date your phone" after months of being apart from her frequently on-the-road boyfriend) advises coordinating a specific time to chat every evening. "We set up a FaceTime call for 7:30 every night so we have something to look forward to," she says. "Otherwise we just bug each other all day sending stickers and texts."
Be smart — and empathetic – when it comes to social media. I love this frank analysis from Pia Glenn, who verbalized why I stalked my husband online when we first started dating. "If you're scrolling social media and suddenly see someone you don't recognize wrapped around your loved one like a maypole, it's going to hurt," Glenn said. "Whatever your agreement is, be clear and accountable. You have enough challenges; don't let Snapchat take you down." A heads-up now that your ex will be at dinner will avoid an imagination gone wild later.
Set explicit expectations about cybersex. Cybersex can be a godsend when you're separated from your partner — as long as you two are on the same page. Randi Newton shares the story of an LDR that unraveled because of disagreements over FaceTime sex. "My ex was afraid I'd screen-grab his junk and blackmail him if we ever broke up, so he'd put on a motorcycle helmet to protect his face," she says. "It was really hard not to laugh." Since then, she takes cues from another cuffed-up friend who keeps things more romantic than raunchy. "I know a couple that 'sleeps together' over Skype," she says. "They'd keep it on all night long so they could feel like they were cuddling in bed together when they were hundreds of miles apart."
When you do connect, make it count. One major upside to separation is that the dumb griping you engage in with your partner when you're together doesn't happen as much when you're apart. Jo Piazza says, "I spent the last year traveling while I wrote How to Be Married. I actually think it made my relationship better because it jerked me out of the mundane routine of everyday communication. 'Did the dog poop?' 'Did you replace the toilet paper?' 'Are you sure the dog pooped?' I think we've honed our communication skills on the road with long thoughtful emails that return to how we first talked when we got together."
It doesn't take long for me to realize what she means. On the third night my husband is away, I write him a lengthy, heartfelt note similar to the ones I used to pen regularly when we first started dating. I closed it by saying, "Words can't express how much I love you, honey. You changed my life, and I'm so grateful for you every day."
It's amazing how close some distance can make you feel.