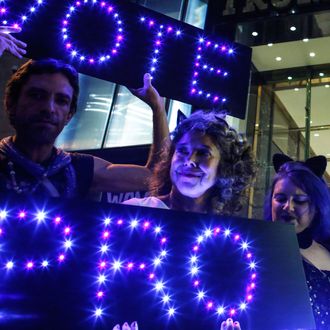 Women protest outside Trump Tower in New York.
Photo: KENA BETANCUR/AFP/Getty Images
Before Susannah Wellford helped to found Running Start — an organization that aims to get young women and girls interested in politics — she ran a political action committee called Women Under Forty PAC. It, too, was designed to support female candidates of any ideology, but during the five years she ran the PAC, Wellford saw little change in the numbers in Washington. "There was a factor we couldn't control," she said. "There were just not enough female candidates running for office."
The United States has an abysmal record on women in politics. As of last spring, just 20 percent of national-level seats were held by women, and the local numbers are just as bad. And although that number rose slightly this election cycle, we're nowhere close to the 50/50 ratio of nations like, say, Iceland.
What's more, it doesn't seem like the voters are the issue — research has found that women are just as likely as men to win elections, and voters decide based on a candidate's party, not their gender. Of course, as the New York Times' Claire Cain Miller points out, it's hard to establish whether there's a gender penalty for women candidates because voters lie in polls to avoid looking sexist. But if we take those findings at face value, voters aren't preventing women from running for office.
A number of other things do keep women out of government, Wellford said, including fear of public scrutiny, lack of funding, and concerns that a career in politics will prevent them from having children. But what strikes her the most, and what she hears over and over again, is that women simply don't think they'd be good politicians. It will take nothing short of fundamental societal change to break down that barrier. And despite the results of the presidential election, Running Start — and other organizations like it — are working toward that goal one woman at a time.
To initiate change, it helps to start from the bottom. "We like to draw attention to the fact that there are over 500,000 elected offices in our country," said Erin Loos Cutraro, the co-founder and CEO of She Should Run. "In no way would I discourage a woman from running for federal office right out of the gate, but we also need to acknowledge the difference our voices can make in our local communities, in our cities, in our states."
Both she, Wellford, and Stephanie Schriock (the president of Emily's List) said they focus heavily on encouraging women to run in the first place — something that's all too rare. For example, Running Start holds leadership summits for high school and college-age women that present a career in politics as a real possibility. They're introduced to women who have run for office before, and they're able to ask questions and voice concerns. Emily's List "make[s] it clear that [women] will have an army of support from Emily's List when they do [run]," Schriock said. She Should Run operates under similar principles, but most of their efforts take place online; once a woman is nominated through their "Ask a Woman to Run for Office" form, she's given access to a digital incubator and invited to join an online community of women who are thinking about running for office.
"The very act of planting a seed with a woman or girl who's a leader and who wants to carry forward issues she cares deeply about, and encouraging her to see elected office as a place where she can make a difference is incredibly important," Cutraro said.
She added that She Should Run's incubator also addresses the sexism women might face when running for office, which for most women is a serious concern. The conventional wisdom, she said, was that female candidates shouldn't draw attention to the sexism they face — "God forbid someone perceive you to be a feminist!" — but when She Should Run partnered with the Women's Media Center to study the issue, they found that confronting it head-on appealed to voters. "When they hear you say, 'I don't think you'd ask that of my male opponent; let's get back to the issues,' they see you'll stand up for yourself, and they believe you'll stand up for them," she explained.
But it takes time to change cultural perception. And unlike the better-known Emily's List, which has been around since 1985, She Should Run and Running Start haven't been around very long. The first was founded in 2008, and the second just a year prior. "We're still struggling with what it looks like to have a woman in power," Wellford said. "There's still a lot of work to be done to get people to look at young women and see them as people who could be in power." Cutraro agreed but also pointed to the lack of initiatives to achieve parity in politics. "I think we have not reached a point in time yet where we want to prioritize that conversation," she said.
Interestingly, both Cutraro and Wellford said interest in their organizations has skyrocketed since Hillary Clinton lost the election to Donald Trump. Cutraro said that in the 24 hours after the election, She Should Run received more than 1,000 nominations. "We have nothing to compare it to, frankly," she said. "Never in 24 hours have we seen this kind of response."
Wellford, meanwhile, said they've received 600 new donations and hundreds of emails and messages on social media. "My prediction was that by the weekend it was going to be over," she said of the wave of responses. "But if anything it's picking up." Whether or not the wave of interest persists will depend, she said, on Donald Trump. If he cripples women's health care, overturns Roe v. Wade, and assembles a cabinet of solely white men, the backlash will continue. "I hope that's not the case," Wellford said. "But it serves as an extreme wake-up call."
Cutraro hopes that wake-up call will echo throughout the country, particularly when it comes to young girls. "My hope is that even if [parity] isn't the priority of any particular administration that it becomes the priority of our country," she said. "Because we owe it to our daughters to make it so."