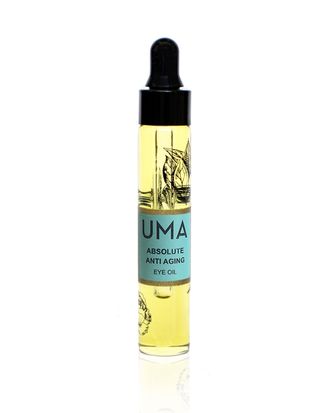 On any given day there are a number of beauty questions flung in my direction. Everyone wants to know how to conjure perfect skin (whatever that means), and after that, they want the perfect eye cream. Eye creams are tricky. Most, I hate to say, are glorified moisturizers, despite grand promises of deflated bags, vanquished dark circles, and disappearing fine lines. Add the cruel element of bloated price tags and it's easy to understand why eye creams are tough to recommend. But an eye oil? That's different.
One in particular stems from Uma Oils, a new brand that is harnessing nearly 1,000 years of oil research. Its founder is Shrankhla Holecek, whose ancestors, as she explains, served as the royal Ayurvedic physicians in central India. In order to enhance their work, Holecek's ancestors were siphoned land plots to cultivate the highest-quality essential oils. Most recently, they acted as an oil supplier to prestige beauty brands like Estée Lauder and Tom Ford, but Holecek surmised that it was time to launch a few products of their own.
And so arrived Uma's Absolute Anti-Aging Eye Oil, which straps 14 different oils together to form a glossy formula. Unlike an oil contrived to treat the body or hair, Uma's is nonirritating, and won't migrate into eyes. But here's why I love it so much: The oil, which by definition behaves as a sealant atop skin and traps moisture, prevents the under-eye from becoming dry better than an eye cream or moisturizer alone. If you suffer from dry skin, the oil is essential, and if you're particularly troubled by the lingering arrival of eye wrinkles, which are aided by dry skin, it's a necessary skin-care component.
After applying a face moisturizer or eye cream, put Uma to work. Use the oil's dropper to squeeze a drop or two directly under the eye, and lightly pat until the liquid is absorbed. If you plan to wear under-eye concealer, wait a few minutes for the oil to dry first.
It's highly improbable that Uma will eliminate puffiness or brighten dark circles (I didn't experience that), but it will lend a superior hand in protecting eyes from wrinkling-inducing dryness. Did I mention that a host of ingredients like rose, lavender, and chamomile make it smell delicious, too?
Uma Absolute Anti Aging Eye Oil, $75 at Shen Beauty