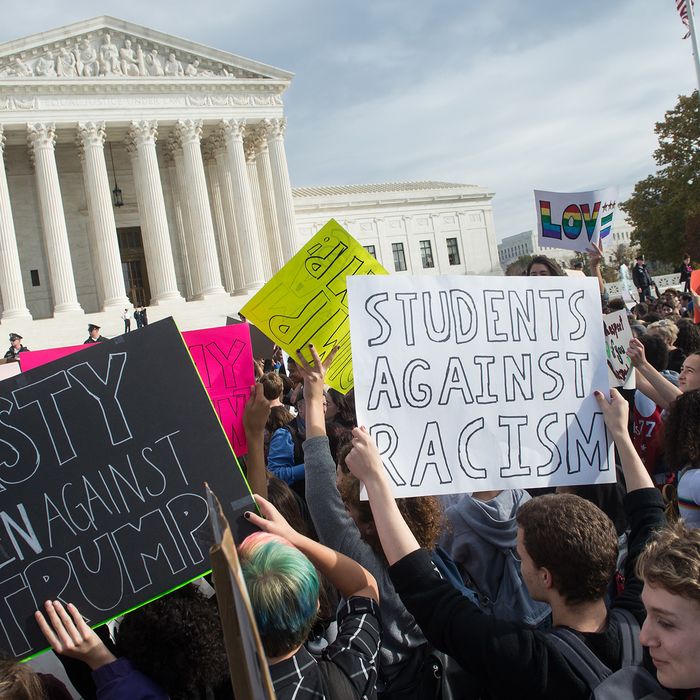 Hundreds of students in Washington, D.C. protested President-elect Donald Trump's divisive rhetoric on Tuesday.
Photo: NICHOLAS KAMM/AFP/Getty Images
For all the talk about teenage apathy that's at the heart of one too many a think piece, here's a nice antidote: Around 2,000 middle and high-school students in Washington, D.C. walked out of classes on Tuesday in protest of the presidential-election results and the resulting cultural divide. While many were specifically protesting President-elect Donald Trump, the overwhelming majority of students walked the streets in a sign of solidarity. Their goal, according to the Washington Post, was to show that they remain united against the divisive rhetoric Trump spewed during the campaign.
Photos show the numerous handmade signs students held during the protest and give some insight into the progressive and inclusive dynamics at work, especially regarding reproductive rights. Teenage girls and boys chanted in support of a woman's right to choose. Girls chanted, "My body! My choice!" while boys responded with, "Her body! Her choice!" There were also plenty of teenage girls who reclaimed Trump's "nasty woman" remark during the final debate. Per the Post:
Teenage girls wore shirts that said "Nasty Woman" and other, more explicit shirts, such as one that read: "P—y grabs back," a reference to an incendiary remark Trump made in a leaked 2005 recording during which he made vulgar comments about pursuing women.
Following other anti-Trump protests and unity walks around the nation, Wilson High School students organized the protest and were joined by at least five other schools in the area, according to the Post. While the students certainly couldn't vote during the election, their goal was to show the unity students feel among girls, boys, the LGBTQ community, and other minority groups. "We are a diverse school and accepting environment, and we feel the Trump administration is going to try and divide us," Pearl Strand, a 17-year-old Wilson senior, told the Post. "We are protesting to show we are united."
Oh, and in case anyone is wondering: The student organizers did their homework, too. They let police know ahead of time about the walkout and were escorted by them as they made their way to Trump International Hotel.