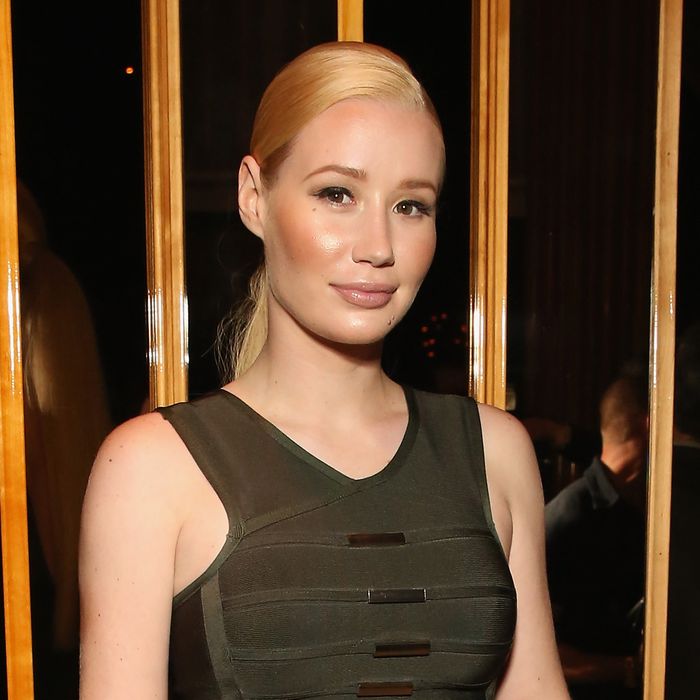 Iggy Azalea.
Photo: Monica Schipper/Getty Images
We've come a long way since the days when plastic surgery was considered a hush-hush topic among celebrities, best left to tabloid speculation. These days, there are plenty more actors and pop stars who admit to getting "work done." The stars who admit to said "work," however, tend to fall somewhere on the spectrum of "I've had some small touch-ups done" to a more brazen ownership of "of course, I had this and that done — and let me tell you who did it." For those who are curious, Iggy Azalea falls into the latter category. The pop singer took to her Instagram over the weekend to wish a happy birthday to her plastic surgeon and thank him for working with her.

But Azalea did more than just wish a happy birthday to the plastic surgeon whom she credits for her new breasts and nose, she also gave him a major shout-out and called him a friend. Here's the sincere thanks she wrote for Ashkan Ghavami, a plastic surgeon based in Beverly Hills.

"It might seem obvious I'd hold the man I owe my fabulous nose and breasts to in high regard," she said. "But vanity aside; Ash you're hilarious as hell, talented, eclectic, a progressive thinker & someone who supports women in their choice to do what they want with their OWN bodies (tons of men don't share that sentiment) So cheers to you! I'm proud to call you my friend."
Azalea revealed last year that she had plastic surgery after speculation surfaced about her getting a nose job. "I'm not denying it," she told Seventeen in 2015 about the rhinoplasty. "Denying it is lame. I don't think you should be ashamed if you made a change to yourself, which is why I've spoken about the changes I've made, like with my breasts." That's one way to quash rumors — with the honest truth.