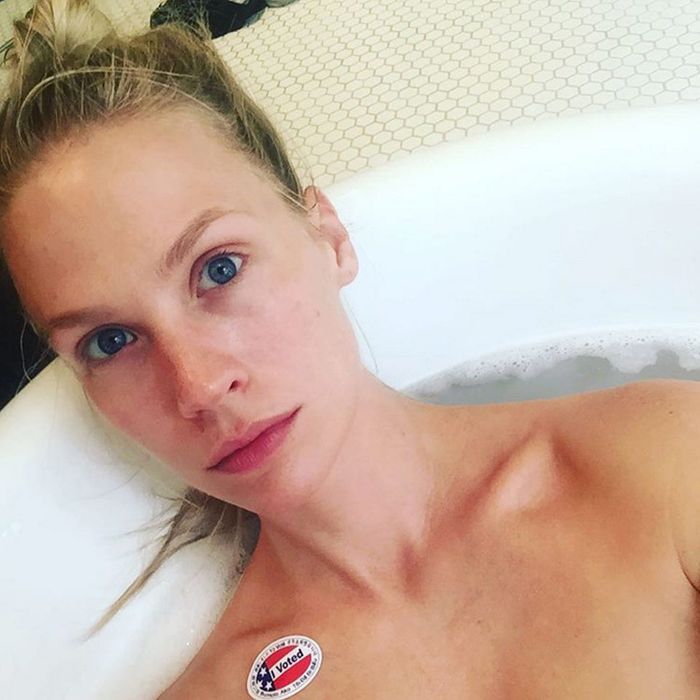 Bathtub sticker selfies are always a safe bet.
Photo: Courtesy of Instagram/januaryjones
Earlier this voting season, Justin Timberlake headed to the polls in his hometown of Memphis to vote early. All seemed to be going well until he shared the moment on Instagram with the caption "There could be early voting in your town, too. If not, November 8. Choose to have a voice! If you don't, then we can't HEAR YOU! Get out and VOTE!" Unfortunately, using phones in Tennessee poll booths is illegal. The Tennessee General Assembly passed a bill last year that stated it was illegal to use cellphones to record images at voting sites, which legally prohibited Timberlake "from using the device for telephone conversations, recording, or taking photographs or videos while inside the polling place."
An Instagram spokesperson told the Cut that the legalities of using phones within booths and taking photos at polls vary depending on location. In an October 2016 Associated Press piece that elaborates on the issue, posting ballot selfies is illegal in 18 states. The reasons vary: In South Dakota, for example, selfies are "considered influencing a vote or forcing someone to show proof of voting." In Alabama, selfies are "not allowed because voters have a right to cast a ballot in secrecy and in private."
The AP piece goes on to clarify where it's legal to bring mobile electronics into booths, and where voters can take photos of ballots. Louisiana's Secretary of State, Tom Schedler has said that he isn't a fan of them, but they're allowed.
And then there are the states with blurred lines. Take Oklahoma, for example, where officials advise against taking selfies but outline no penalties. Or Delaware, where Commissioner of Elections Elaine Manlove said, "I don't know that we can control what happens behind the curtain," but there is a policy against bringing cellphones into the voting booths."
Everyone has a different reason to show the world that they voted. Perhaps you're trying to convince your swing-state friends to join in, or maybe you're proving another point to your dad about your political choices. To be safe, check the list. The fines can be high, and the word "jail" was even tossed around after Timberlake posted his selfie. (Don't fret, he won't be barred up for this.) Here are some ways that celebs are legally sharing their voting experience. Whether or not you share their views, you can follow their leads on social media.
And for a quick list of legal, illegal, and blurred-lines-but-you-should-definitely-double-check:
Legal:
Connecticut
District of Columbia
Hawaii
Idaho
Indiana
Kentucky
Louisiana
Maine
Minnesota
Montana
Nebraska
New Hampshire
North Dakota
Oregon
Rhode Island
Utah
Vermont
Virginia
Washington
Wyoming
Illegal:
Alabama
Alaska
Colorado
Florida
Georgia
Illinois
Kansas
Massachusetts
Michigan
Mississippi
Nevada
New Jersey
New Mexico
New York
North Carolina
South Dakota
South Carolina
Wisconsin
Blurred Lines:
Arizona
Arkansas
California
Delaware
Iowa
Maryland
Missouri
Ohio
Oklahoma
Pennsylvania
Tennessee
Texas
West Virginia