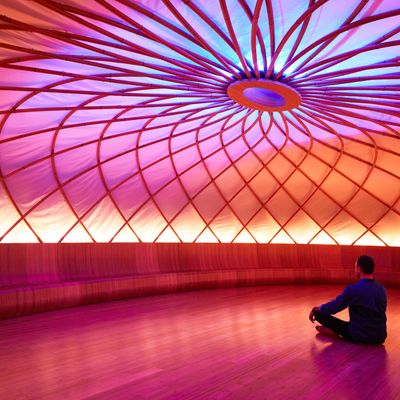 The main meditation room.
Photo: Christian Harder/Inscape
It feels a little dirty to give anything ancient — yoga, tarot, quinoa for Christ's sake — the label "trend," but it's hard to argue that meditation isn't trendy right now. The Headspace app lets you meditate during your commute. Sleek New York meditation studio MNDFL is trying to make the practice feel like boutique fitness. Even my midwestern mother is extolling the virtues of sensory deprivation.
Meditation's next step into the mainstream is Inscape, a project from Khajak Keledjian, the founder and former CEO of Intermix, and Lew Frankfort, the executive chairman and former CEO of Coach.* Inscape is the first "multi-platform meditation brand," operating both a 5,000-square-foot Manhattan studio space with classes (like MNDFL) and an iOS app (like Headspace). Keledjian, who has been practicing for years and says he serves as a meditation adviser to curious friends, explains that he saw a void in the marketplace for "modern, secular, and accessible meditation experiences." The approach isn't pushy. It doesn't ask you to rearrange your life, but rather provides an attractive point of entrance, in line with the "you, but better" attitude rippling through the modern wellness landscape.
The studio is located on West 21st Street in the Flatiron District, New York City's boutique-fitness hotbed. The same block hosts locations for the indoor cycling-studio chain Flywheel and the barre/spa hybrid Exhale. Athleisure mecca Bandier is around one corner and the plant-based fast-food phenomenon By Chloe is around the other.
The Inscape space is enormous, with a footprint that could house a fancy grocery store or a restaurant where you never have to wait to be seated. The front third of the room is occupied by the check-in desk and what's essentially a self-care-themed gift shop. There are $30 candles (profits support SolarAid), a 500-piece gradient puzzle "promoting slow time," coconut oil in a travel tube, and a $185 alarm clock that mimics the sunrise. Before I even check in, I am seduced by a $29 hardcover workbook called The Happiness Planner.
But this is no time for mindless consumption — I'm here to center! After I check in, an Inscape staffer leads me to an area with keyless lockers and asks me to leave my things, including phone and shoes. I am suddenly very conscious of my socks; I didn't plan for their reveal. Character is the socks you wear when no one is watching.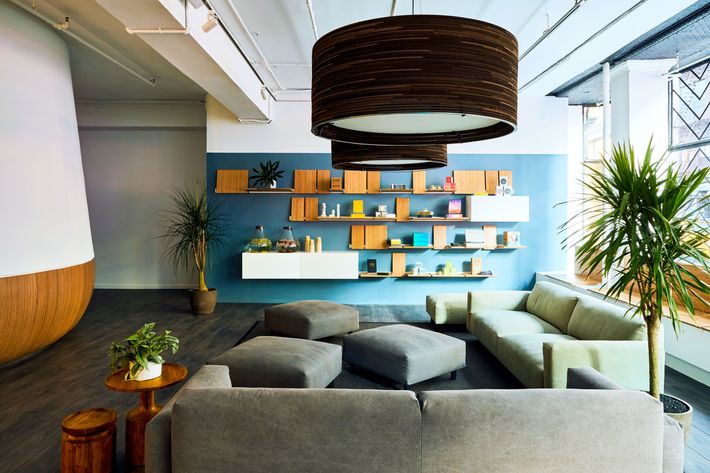 Attendees wait for the class to begin in a comfy lounge area with adult bean bags in natural fibers. We sit around, quietly drinking complimentary watermelon-basil water, and because no one is gripping an iPhone, we even talk to each other, just a little.
Sessions take place in two rooms. The smaller space is rectangular and features an art installation that will change seasonally*. But the real attraction is a huge bulb built into the middle of the expanse, designed by architect Winka Dubbeldam and inspired in part by "the mood in the temple at Burning Man." (Having never been, I can't attest to accuracy.) The preview session I attend takes place here. Inside, the space is shaped like a squat dome, with a mesmerizing network of curved wooden beams and mood lighting in a sunset palette ranging from deep violet to pale yellow. It feels like a Turrell-aware Integratron. The instinct to Instagram is strong, but my phone is far away.
There are three areas to settle, all facing the center and supported by padded seats with cozy blankets. We're instructed to sit comfortably; for me this is a kindergarten cross-legged instinct, or as much as my 100 percent cotton Levi's will allow. Other people sit in lotus pose, which these jeans definitely will not accommodate. I cover myself with the blanket.
The class is hosted by a live facilitator*, who introduces herself in the hushed tone we've all adopted since entering the room. She sits with us and instructs us to get comfortable, but when it's time for the session to begin, I'm surprised to find that it's led by a recorded audio track (presumably custom to Inscape). The facilitator doesn't make a peep again until the end of class.
As you'd imagine, most of the session involves having your eyes closed and metering your breath. If your mind is wandering, you can count with the inhales and the exhales. In line with Keledjian's mission for a secular and accessible meditation experience, there is nothing cringingly corny about the straightforward session — nobody asks you to imagine that you're a field, or exhale loudly with the group. My favorite part is at the beginning, when we slowly rubbed our palms together to connect to our bodies. Try it. Electric, right? I've been using this technique a lot since the election.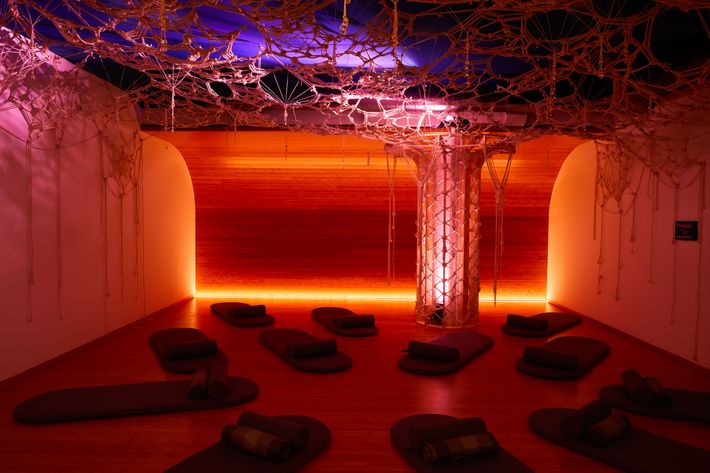 Our 20-minute session was just a taste of the classes, which begin at $18 for 33 minutes and include options that last for over an hour, priced at $29 (you can also buy monthly or annual unlimited passes). Attendees were encouraged to take their time exiting the room, and a number of us lingered. Before the session, I'd chatted with a print editor who was anxious about getting back to the office in a reasonable amount of time, and while she didn't seem exactly liberated from the shackles of the workday afterward, she also didn't rush to leave.
It was blissful to be away from technology. As a freelancer, I'm not tethered to email and Slack like I was when I had a full-time job, but I can imagine the incredible calm this might give someone in an always-on-call position at the beginning or end (or lunch hour) of their day.
The Inscape studio provides for meditation what SoulCycle and the like do for working out. It offers accountability via class structure, assurance that you're doing it "right," and an alluring physical space that feels in line with someone you want to be. Of course, you could just as easily meditate at home for half an hour for free — and maybe you will, with the Inscape app — just like you could easily go for a 45-minute run straight from your door, and call the day's cardio a wrap. But much like a boutique fitness studio, Inscape asks you to trade travel time and a tidy sum for a guided, branded experience. And if that's what it takes to get you there, then maybe that's okay.
*This post has been corrected to show that Khajak Keledjian and Lew Frankfort are former CEOs of Intermix and Coach, respectively. Additionally, the art installation will change seasonally, not monthly, and Inscape refers to the people who lead its classes as facilitators, not instructors.