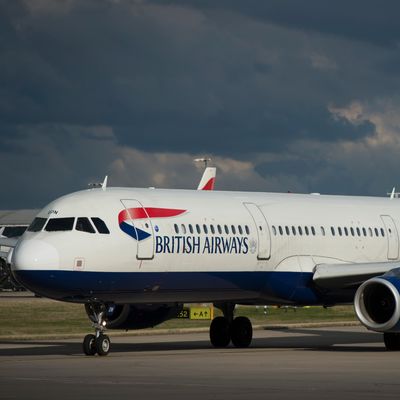 Ireland compensated a woman for traveling to Britain for an abortion.
Photo: Hannah McKay/PA Wire/Press Association Images
Women's reproductive rights in the U.S. are currently under attack. As a result, many people are looking to countries where abortion is illegal to see what life might be like if Donald Trump is successful in his fight to overturn Roe v. Wade. Ireland is merely one of the many countries with strict anti-abortion laws, and on Wednesday, it agreed for the first time to compensate a woman who was forced to travel to England to get an abortion.
The Republic agreed to pay Amanda Mellet a "highly significant" compensation for emotional damage, after she and her husband, James, were forced to travel outside the country to terminate their pregnancy in 2011. Mellet was 21 weeks pregnant when doctors discovered that the fetus had severe congenital defects and would not survive outside the womb. Under Ireland's anti-abortion laws, Mellet would have been forced to give birth to baby that would be born dead if she hadn't traveled for the procedure, the Guardian reports.
In 2013, Mellet was the first of three women to take her case to the U.N. Human Rights Committee, where she argued that Ireland's ban on abortions in instances of fatal fetal abnormalities is "cruel and inhumane." The UN ruled in June that by forcing Mellet to leave Ireland for an abortion, Ireland inflicted trauma and distress upon her.
Abortion in Ireland is only legal if the mother's life is in danger (including risk of suicide), but it isn't legal in instances of rape, incest, or fetal anomaly. Ireland's constitution also has an amendment giving full citizenship rights to embryos after conception. Pro-choice advocates who have been arguing for a referendum to repeal the amendment welcomed Ireland's agreement with Mellet on Wednesday, according to the Guardian.
"To the best of my knowledge, this is the first time ever that the Irish government has compensated a woman for having to leave the country for an abortion," Ailbe Smyth, an advocate with the Coalition to Repeal the Eighth Amendment, said. "This is long overdue acknowledgement of the profound denial of women's right to autonomy in this country."