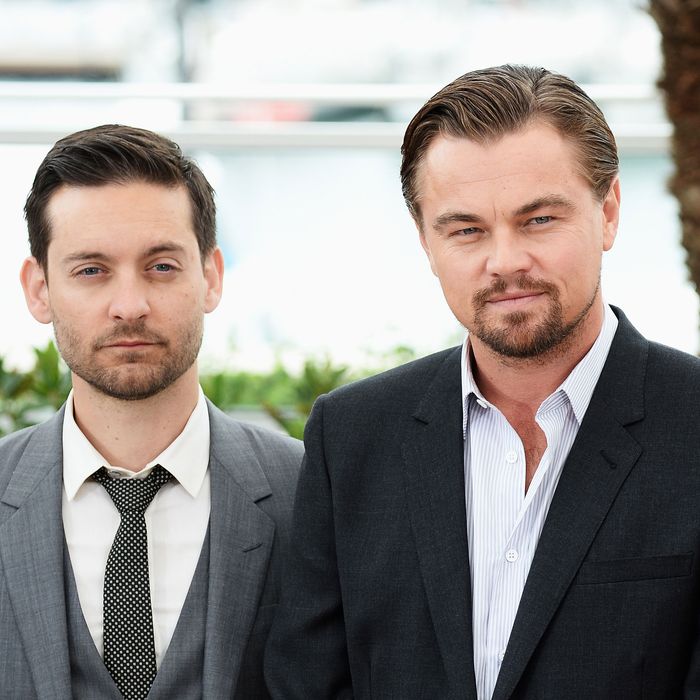 Tobey Maguire and Leo DiCaprio.
Photo: Venturelli/WireImage/Getty Images
During the last season of Bravo's amoral restaurant reality TV program Vanderpump Rules, bartender Jax Taylor told the other bartender Tom Sandoval something important: "Stop acting like you're the No. 1 fucking guy in this group, man," the erstwhile alpha cried. "I'm the No. 1 guy in this group." The shocking moment, which took place at a party in someone's basement, revealed that straight, white guys nearing the age of 40 think about social positioning perhaps more than anyone else.
This proved true again today when "Page Six" reported that the newly single Tobey Maguire is angling to be the No. 1 guy in his group. The group, of course, is the Pussy Posse, which was founded in the 1990s by actor Leonardo DiCaprio. Sometime after he starred in The Wolf of Wall Street and won an Oscar for The Revenant, DiCaprio moved to change the name of the group to the Wolf Pack, in order to solidify his alpha status. Did it work? According to the "Page Six" source, maybe not.
"The 'wolf pack' [is] now using Tobey as Leo," the source claims, "now that Leo's out of the picture with a girlfriend." DiCaprio has been coupled up with 24-year-old Victoria's Secret model Nina Agdal for months (lame), while Maguire is out partying again after divorcing his wife of nine years (cool). Maguire was "holding court" at the nightclub Catch LA this weekend, the source adds, and he just bought a $13 million party pad in Los Angeles.
Without confirmation from ancillary Wolf Pack members Lukas Haas and Kevin Connolly, it's impossible to know which guy is actually the No. 1 guy. Who is texting the group each day at 8 p.m. to tell everybody that they are going to 1Oak later? Who is picking out the yacht to rent in St. Tropez? Who gets to wear a fun crown even when it's not his birthday? My guess is: still Leo DiCaprio. But, as Lainey Lui of Lainey Gossip points out, the "Page Six" story proves that someone in the group is trying to start a fight between DiCaprio and Maguire. Why are men so dramatic?