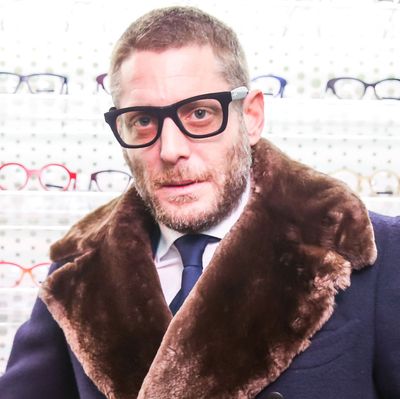 Lapo Elkann.
Photo: Will Ragozzino/BFAnyc.com
Lapo Elkann, an Italian heir to the Fiat automobile fortune, was arrested over the weekend in New York for allegedly faking his own kidnapping. Shares of Elkann's eyewear company, Italia Independent, dropped 8.6 percent as news of his arrest spread Tuesday, WWD reports.
Elkann, 39, allegedly came up with the false-kidnapping plot after flying to New York on Thursday and hiding out at a Manhattan housing project with a 29-year-old male escort he found online, according to the Daily Beast. The two men reportedly consumed alcohol, marijuana, and cocaine for two days before running out of cash. At that point, Elkann, the youngest grandson of late Fiat chief Gianni Agnelli, falsely warned his relatives that he had been kidnapped by a woman and that, unless they paid her $10,000, he would be hurt.
Elkann's family reached out to the New York Police Department about the ransom. The cops then lured Elkann and the alleged escort to a spot to collect the cash — and "pounced" on the two men as soon as they arrived, the Daily Beast reports. Elkann was charged with filing a false police report and given a desk ticket.
This is merely the latest scandal for Elkann, who frequently boasts about his luxury cars, high fashion, and exotic travels on Instagram. In 2005, he made headlines after nearly dying of a drug overdose — an incident that also involved a sex worker, WWD reports. Later, in 2015, three Italian paparazzi were accused of blackmailing Elkann over a video in which he was allegedly high and partaking in "compromising" behavior. Earlier this year, he was photographed trying to kiss Uma Thurman without her consent.