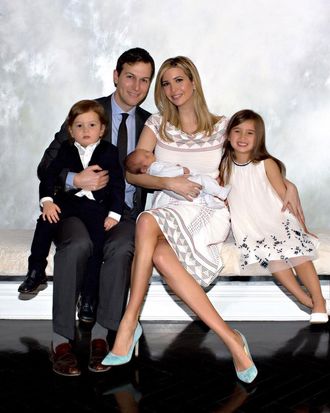 Jared Kushner, Ivanka Trump, and their children.
Photo: Courtesy of Instagram/ivankatrump
One of the great insults of losing Michelle Obama and Hillary Clinton as icons for empowered, working women is that Trump World seems to believe it has a valid replacement in the form of Ivanka Trump, a self-described "American wife, mother & entrepreneur." Her hallmark issue is supporting women who work. (Her father explained that, when it came to the case of maternity leave, Ivanka said, "Daddy, daddy, you have to do this," like it was a pony or a canopy bed.) Ivanka aggressively promotes herself as the dynamic, hardworking mother of three children: Her Instagram offers photographs of herself dressed in endless iterations of banal career-Barbie attire: very high heels, very fitted dresses, belted coats. She is often striding across Park Avenue to hail a cab, or cutting ribbons at the opening of Trump properties. She is often photographed with her children, too, in her tastefully decorated apartment where everything is cream, or white, where the floors are spotless and the children are beautifully dressed in expensive, well-ironed neutrals. That the walls are not made of dark veiny marble, that the accents are not glaring and golden, seems exactly the sort of surface-level distinction she has sought to make between herself and her father, as if enough shades of cream can absolve her and her poreless brood of everything the father and his gilt and self-tanner stand for. There are so many adjectives available to describe Ivanka Trump, and "clean" is near the top of the list. Has any family ever been so clean? She is so determined that it be so.
Let me speculate, as another woman who works and also has children of a similar age, that Trump is not looking after all those neutral textiles, nor is she caring for those children all by herself. I sure don't do all of these things myself, and neither do the many New York City career women I know. There was a great moment at the Time 100 gala in 2011 when Amy Poehler thanked the nannies who help her care for her children — her career certainly would not be possible without them any more than it would be without the agents and publicists who are more routinely, publicly acknowledged.
So perhaps it's time for Ivanka to do the same. Nowhere included in her #womenwhowork are the women who must work very hard to keep it all so clean, to keep it all running smoothly behind the gold-plated doors of Trump Tower, to help Ivanka portray this spotless ideal she is so determined to protect. Trump's #womenwhowork all look a lot like she does. They work at jobs where it's acceptable to dress as you would for rush night at a southern sorority: in dry-clean-only soft colors and painfully tall shoes.
Why are the other women who make this idea of "work" possible, who are so integral to the equation, kept invisible? Is it because once a member of #teamIvanka is done strolling a few blocks with a toddler in blue-velvet stiletto heels, someone in less photogenic shoes is required to finish the job? When Trump eats spaghetti Lady and the Tramp style with her son, she is wearing a taupe-colored sweater, he is in white. There is, at his side, a pressed and folded cloth napkin. I'm willing to guess that neither Ivanka Trump nor Jared Kushner laundered that napkin, laid that table, or cleaned up the inevitable toddler-with-spaghetti mess.
Are the women kept out of sight because that type of work is not best performed in slim-fitting, one-shouldered sheaths? Because they have little use for knockoff versions of designer shoes, therefore they are "off-brand" for #teamIvanka?
Ivanka Trump cries foul at attempts to politicize her brand, but she has made herself an overtly political figure since the moment she waited to introduce the father at the bottom of that dread escalator. She is, it must be pointed out, delighted to cash in — you could click to buy the clothing she wore at her major campaign appearances, the bangle she wore on 60 Minutes warranted a press release — when the co-mingling works in her favor.
In honor of Ivanka's hashtag, we invite you to tweet out pictures of these other "women who work." Use her hashtag and fill it with the people who make lives like Ivanka's possible. Because these women, too, work.