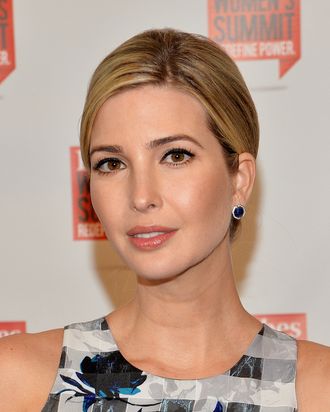 Ivanka Trump.
Photo: Slaven Vlasic/Getty Images
This week, Ivanka Trump divorced Ivanka Trump. Well, in the sense that she (or, per the signature, whoever constitutes #TeamIvanka) issued a statement saying she was distancing herself from her eponymous fashion brand, including separating her social media accounts from the company's. The statement, which you can read in full below, says that the company's "mission is not political" and describes itself as "inclusive."

That's quite the turnabout for someone who, a week and a half ago, was promoting a bracelet she wore on 60 Minutes (which rings up at a Rust Belt–accessible $10,800) with an ill-received email blast. Or who similarly promoted her (imported) sheath dress, worn to the Republican National Convention. Trump has been happy to use her widened public platform as a way to sell stuff over the course of the campaign. So what gives?

Given her increased role in politics — she jumped on a phone call with Argentina's president yesterday — and her future role helping run her father's businesses, she is likely making this move to avoid being called out for conflicts of interest later. But considering the brand bears her name and she has continually used her image to promote it, distancing herself now seems like a halfhearted, the horse-is-out-of-the-barn move.
There could also be a financial element to the decision: She has faced blowback from customers boycotting her label (and gathering their complaints under the hashtag #GrabYourWallet). And according to a New York Times report, in the run-up to the election, she was concerned about the ill effects her campaign involvement could have on her business.

Throughout the campaign, Trump and her brand-keepers have handled the words "political" and "politicize" with metaphorical ten-foot tongs. (No politics, please, we're making jewelry and mid-priced workwear!) But Trump's fashion business, by dint of its context, has been political for a while now — and not just because its founder is the future First Daughter.
The company displayed its values when it made its interns work for free, then had one of them write a blog post with tips from her fellow interns on "surviving" that situation. And despite Trump's stated aims to advocate for women — including her statement in a campaign video that "the most important job any woman can have is being a mother" — the manufacturing company she works with doesn't offer maternity leave, and, according to a former employee, neither did her own company, at least not at first. As the future First Daughter's foray into politics continues, there's only so much she'll be able to do to separate Ivanka the (political) figure from Ivanka the brand.

The full statement from the company is below:
We launched our #WomenWhoWork initiative in 2014 with the intention that it would become a network of women supporting other women, and it has. We respect that we each have different points of view. Our goal from the beginning has been to be a community that's inclusive of all.
Our company's mission is not political—it never was and it never will be—however, Ivanka, personally, has an increased opportunity to advocate for women and be a positive force for change. As a private citizen, with full awareness of her heightened visibility, she will broaden her efforts to take a stance on issues of critical importance to American women and families. Meanwhile, our team will continue working to inspire and empower women to create the lives they want to live through solution-oriented product and inspiring content on IvankaTrump.com and across social media.
Effective today, you'll notice a shift in our social channels. Follow @IvankaTrumpHQ on Instagram, Facebook and Twitter to get the latest on #WomenWhoWork, The Skill Set, fashion stories and the rest of the content we're creating each week. Keep following @IvankaTrump on all channels for Ivanka's personal feed.
This is an unprecedented time for our company and we are being intentional in how we move forward, working hard to ensure we're creating the best possible community for our readers. We've been listening to the feedback we've received, both positive and not, and we've been taking it into consideration as we plan for the future. Keep the comments coming. We'd love to know who you want to see featured on our site and the topics you'd like us to cover.
We appreciate each of you and look forward to the things to come.
#TeamIvanka