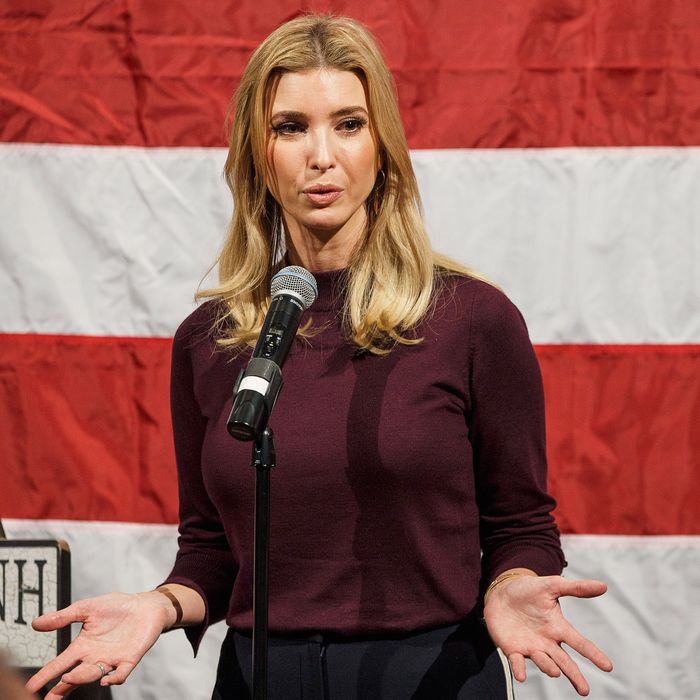 Ivanka Trump will keep "fighting."
Photo: Boston Globe via Getty Images
Ivanka Trump's speech at the Republican National Convention was one of the only times so-called "women's issues" were mentioned on the Republican side during the presidential election. And although the family-leave plan she helped craft has been criticized for excluding fathers and same-sex couples, she said in an interview with CBS's 60 Minutes on Sunday that it's "very important to [her]" to keep pushing for women's issues.
"I've said throughout the campaign that I am very passionate about certain issues," she said. "And that I want to fight for them. Wage equality, child care: These are things that are very important for me. I'm very passionate about education. Really promoting more opportunities for women. So you know, there're a lot of things that I feel deeply, strongly about." The role will be more advisory than anything; she told CBS she will not serve in a formal administrative capacity.
Ivanka has served pretty much single-handedly as her father's female outreach team, promoting equal pay and paid-leave policies, despite only offering such things to her own employees conditionally. But at the Fortune magazine's Most Powerful Women Summit, she told Time's Nancy Gibbs, "I'm not a surrogate, I'm a daughter. I'm not dogmatically aligned with any party."
The thousands of women boycotting her clothing line don't make that same distinction.