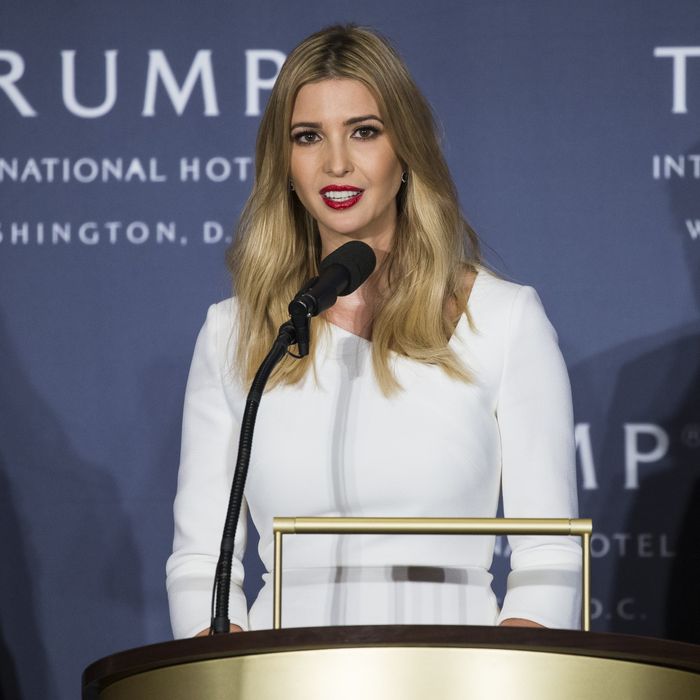 Photo: Anadolu Agency/Getty Images
As a poised businesswoman who can ostensibly speak to the concerns of female voters, Ivanka Trump has become an important part of Donald Trump's presidential campaign. Her high-profile participation has brought some unwanted attention to her clothing and accessories line, from revelations about the company's embarrassingly bad maternal-leave policy to its unpaid interns. Then there's the #GrabYourWallet campaign, where women have been tweeting about boycotting Ivanka Trump's line.

The New York Times feature, "Inside Donald Trump's Last Stand: An Anxious Nominee Seeks Assurance," is full of confidential nuggets about the Republican nominee's campaign, but one detail that stands out in particular is about Ivanka appearing in a campaign ad for her father.
"His polished older daughter, Ivanka, sat for a commercial intended to appeal to suburban women who have recoiled from her father's incendiary language. But she discouraged the campaign from promoting the ad in news releases, fearing that her high-profile association with the campaign would damage the businesses that bear her name."
The Times also reports that Trump's spokesperson, Hope Hicks, "denied that Ms. Trump had misgivings about promoting the ad in which she appeared. 'That's simply not true,' Ms. Hicks said. 'Ivanka is totally supportive.'"
On Good Morning America last week, Ivanka defended the success of her brand and her father, noting, "Well, the beauty of America is people can do what they like, but I prefer to talk to the millions, tens of millions of American women who are inspired by the brand and the message that I've created … My advocacy, trying to empower women in all aspects of their life, started long before this presidential campaign did. I've never politicized that message. People who are seeking to politicize it because they may disagree with the politics of my father, there's nothing I can do to change that."