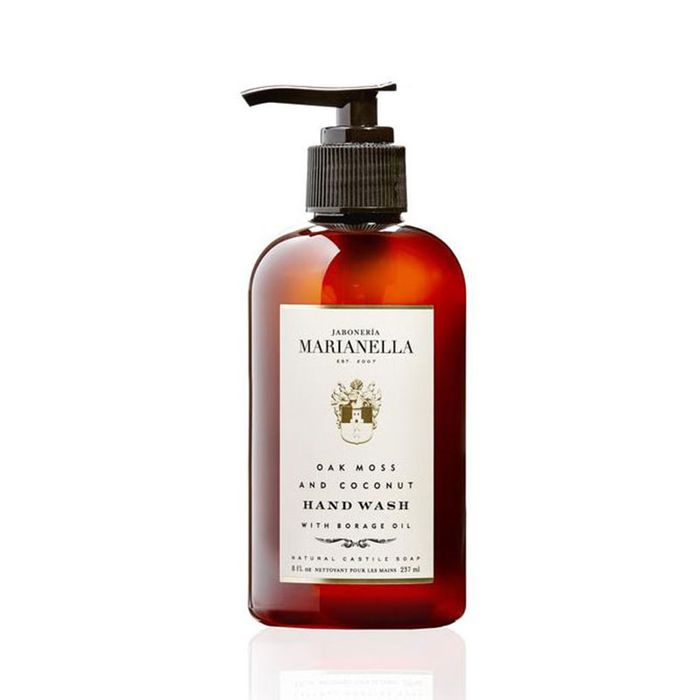 Jaboneria Marianella soap
This time of year — cold-and-flu season — the advice is always more of the same: Sanitize frequently touched objects like doorknobs and light switches, don't schlep to work sick, and, above all else, wash your hands frequently. It's the latter that reaps the the most unsavory consequences. Hand soap is good for germs, yes, but terrible for your skin.
It was a perfectly forgettable moment when I plucked Jaboneria Marianella's Oak Moss and Coconut handwash from the far reaches of the the Cut's beauty closet. For a week it sat unused in my apartment, until one day I decided to give the liquid a whirl. The soap bubbles when met with a splash of water, but it feels silky on skin, too, like a lotion that happens to lather.
That's the magic in Jaboneria Marianella's handwash. It's not drying. In fact, the soap performs an alternative trick: It moisturizes. That's because the handwash is a playground of oils and butters. Sure, many soaps tout their proprietary blend of hydrating elements, but with Marianella, it's obvious that the moisturizing factor pulled top priority. There's borage-seed oil; coconut oil's less popular cousin, babassu butter; and argan oil in each amber-hued bottle. Each wash induces a slick layer of foam that blankets hands in a fusion of nearly creamy ingredients.
Perhaps the most alluring aspect of Jaboneria Marianella's handwash is that you won't need to immediately follow up with a hand moisturizer to counteract standard soap's moisture-depleting effect. The slight nutty aroma of coconut is also appealing (though someone should tell me what oak moss smells like), and other scents like almond and white tea; Moroccan fig and bergamot; wisteria and jasmine are available, too. Cold-and-flu season will hold fort for many months to come, but so too will my bottle of Jaboneria Marianella.
Jaboneria Marianella Oak Moss and Coconut handwash, $18 at Amazon.