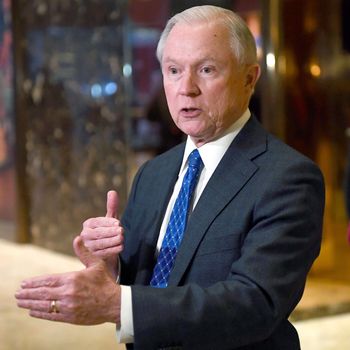 Alabama senator Jeff Sessions.
Photo: JEWEL SAMAD/AFP/Getty Images
Donald Trump made his first round of cabinet picks earlier this week, naming Reince Priebus chief of staff and Steve Bannon — the executive chairman of Breitbart News — as chief strategist. Bannon's appointment in particular drew criticism, and on Friday Trump made a second round of divisive cabinet picks, naming known Islamophobe Michael Flynn national security adviser, surveillance-loving U.S. representative Mike Pompeo CIA director, and Alabama senator Jeff Sessions attorney general, a man who was literally determined to be too racist to serve as a federal judge.
In addition to his history of outright racist behavior — he once called the NAACP and the ACLU "un-American," and on multiple occasions called a black assistant U.S. attorney "boy" — Sessions doesn't exactly have a great record with women; he was one of Trump's closest surrogates during his campaign, and he stood by Trump when the 2005 Access Hollywood tape, in which Trump brags about sexually assaulting women, was published.
At the time, Sessions flatly denied that the words "grab her by the pussy" constituted a description of sexual assault. "This is very improper language, and he acknowledged that," Sessions told a Weekly Standard reporter after the third presidential debate. When the reporter asked if he'd describe such behavior as sexual assault, Sessions said, "I don't characterize that as sexual assault. I think that's a stretch."
He later released a statement saying the Standard's "characterization" of his comments was "completely inaccurate" and that "it is crystal clear that assault is unacceptable," and he "would never intentionally suggest otherwise." He stopped short of condemning Trump's comments.