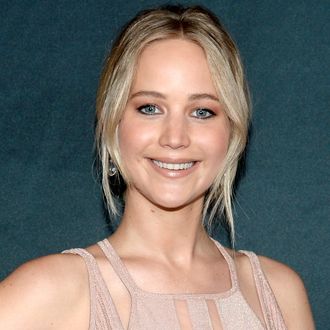 Jennifer Lawrence, texter.
Photo: Kevork Djansezian/BAFTA LA/Getty Images
Vanity Fair cover star Jennifer Lawrence is her ever-relatable self in the magazine's latest issue, charming her way through bowls of popcorn and asserting that she can't drink alcohol at every meal as usual because she's playing a ballerina in an upcoming film. But the most fun revelation comes when we learn that Lawrence has a very special friendship with Emma Stone, to whom she was introduced by their mutual co-star Woody Harrelson. Stone, who got Lawrence's number from Harrelson, first texted the 26-year-old star to introduce herself. "I replied, 'Fuck off!' And we've been really good friends ever since," Lawrence tells the magazine.
What followed was an epic text romance; the two communicated daily for the next year via texts, cementing their friendship with what we assume were a series of pithy, sometimes raunchy, observational bon mots that only two witty, beloved stars could deliver. "I feel like it was our version of The Notebook — 365 texts," Lawrence says. That didn't stop there from being a little human competition in the mix, however. Stone describes feeling a little jealous, because Lawrence is "so great and vibrant and talented" that she worried she might "never work again." She then realized the two were totally different performers and there was room for them both. For her part, Lawrence put it in distinctly J.Law terms. Describing seeing her friend in the forthcoming, buzzy La La Land with Ryan Gosling, she opined, "If I wasn't her biggest fan, I would've Tonya Harding'd her in the kneecaps."