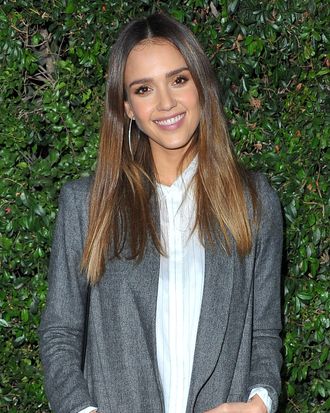 Jessica Alba.
Photo: Allen Berezovsky/WireImage for Fashion Media
Actress and soap scion Jessica Alba will appear on The Ellen DeGeneres Show today where she'll swear up and down that she doesn't work out.

Alba talked about trick-or-treating with her kids, and said: "You walk up and down and you're getting exercise, so I didn't even need to go to the gym — not like I go to the gym, but I was like I really don't need to go to the gym."

DeGeneres pressed her: "You don't work out at all? You're on the cover of Shape magazine. Are you an impostor?" Alba insisted that her cover was the result of strategic wardrobe and posing choices. "You know how you, like, cover the bits and you know how to do the [pose]. So that's what I was doing."

People characterized this statement as "interesting" given what she told Shape in her October cover story: "If I work out four times, I consider it a successful week, but it's typically more like two to three days a week because that's what I have time for. I take Spin or hot yoga classes in the morning, and I sacrifice sleep to fit them in." Hmm.

Yet in August, she told the Cut:

I don't work out daily. I don't have the time. I do feel so much better when I do. I feel more energized when I do get a good workout in the morning. But, especially this summer, it's really hard to prioritize that time. My kids are home in the morning and I'd rather spend 45 minutes in the morning [with them].
She also told Ellen that her Shape shoot was about inner beauty. "It really is about celebrating the thing that is important, which is inner beauty and confidence because there are so many different ideas … of what is beautiful and so many beauty companies want you to become someone else. And I was like, '(What) if we're just enhancing and celebrating your own beauty?' And that's what Honest Beauty is all about."

Being relatable is hard.