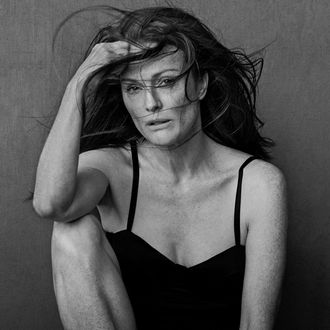 Julianne Moore.
Photo: PETER LINDBERGH
Fourteen Hollywood actresses, including Lupita Nyong'o and Helen Mirren, and, more unusually, one international-relations professor are the cover girls for Pirelli's 2017 calendar, themed around "more real and truthful" beauty.
Two years ago, the Pirelli calendar showed models like Gigi Hadid and Joan Smalls in latex. Last year's version focused on "female achievement" and included Patti Smith, Amy Schumer, and Mellody Hobson. Perhaps in a reflection of the growing conversation about the desire to change beauty standards, 2017 Pirelli calendar photographer Peter Lindbergh said he wanted "to create a calendar not around perfect bodies, but on sensitivity and emotion." To create that, Lindbergh's portraits of Helen Mirren and Charlotte Rampling are more stripped down than usual (some with no makeup), even for the eye-bag-loving Lindbergh. "I walk in, no makeup on and wet hair. And he said, 'No, no, no, you are perfect," said Julianne Moore in a promotional video.
Further explaining the concept, Lindbergh said, "In a time when women are represented in the media and everywhere else, as ambassadors of perfection and youth, I thought it was important to remind everyone that there is a different beauty, more real and truthful and not manipulated by commercial or any other interests, a beauty which speaks about individuality, courage to be yourself, and your own private sensibility." Anastasia Ignatova, professor of political theory at MGIMO–Moscow State University of International Relations, is also included alongside the Hollywood actresses; some speculate this is because she is the daughter-in-law to the CEO of Rostec, a Pirelli Russia co-owner. See the portraits of Uma Thurman, Nicole Kidman, and Robin Wright below, and click the video to watch Penélope Cruz, Rooney Mara, Lupita Nyong'o, Kate Winslet, and others behind the scenes.