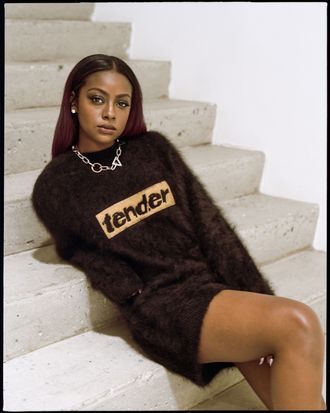 Justine Skye.
Photo: Andre Wagner
To her fans she is known as the Purple Unicorn, but Brooklyn R&B singer Justine Skye is working hard to make sure the world knows her name. At 21 years old, she's already amassed a following without having released a single album. Now, with the launch of her debut single for Roc Nation Records, "U Don't Know" featuring Wiz Kid, she's ready to take the stage.
Before Skye could get here, though, she had to overcome her shyness. "My mom is an entertainment attorney, and she brought me to a BMI panel for people who were interested in becoming artists," she explains. "While I was there, her friends kept peer pressuring me to go and sing in front of everyone because I was a very, very shy girl. And whenever everyone would ask me to sing I would just quietly say no, and be too scared. But during the Q&A portion of the panel I stood up and I sang Sam Sparro's 'Black and Gold.'"
Skye was only 13 back then, but she knew she'd found a career path. She soon developed a neo-soul sound — influenced by Aaliyah, Jill Scott, and Beyoncé — to accompany her ambition. Her 2015 cover of Drake's "Headlines" has over 2 million views on YouTube; it led to her releasing hit two singles with Atlantic Records, "Bandit" and "Collide," both of which charted on Billboard.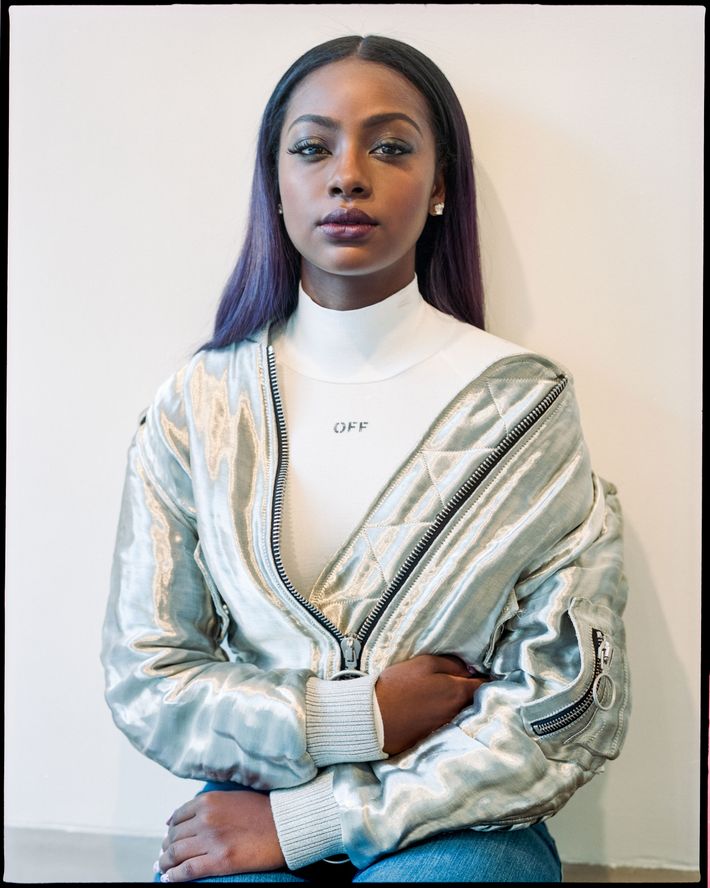 Off White Turtleneck, $961 at Off White; Off White Bomber Jacket, $2,218 at Off White.
Now that she's signed with Jay Z's label Roc Nation, she's more focused on mixing her love of soul music with reggae, though she resists labels: "I just want to make great music. There's not a genre that I would categorize it as, but I want it to be true and authentic."
Her album has yet to receive an official release date, but she's been plugging away at it, pleased to finally be working on music as an adult. "I'm 21 now, so working on this album has been pretty amazing — it's fun being in the studio with some of the most amazing songwriters and producers in the business," she says. "I'm also learning more about myself every time I get into the studio, strengthening my mind and my voice."
But surely she's under a lot of pressure, with so much build-up to the album's release? "I'm not nervous," she says. "I'm hoping that people will love the music, but at the same time the most important thing to me is that I love the music. For a long time I would look for approval from everyone else and let their opinions form my mindset. But now I know that people can tell what is genuinely coming from me and that's what I want them to connect with."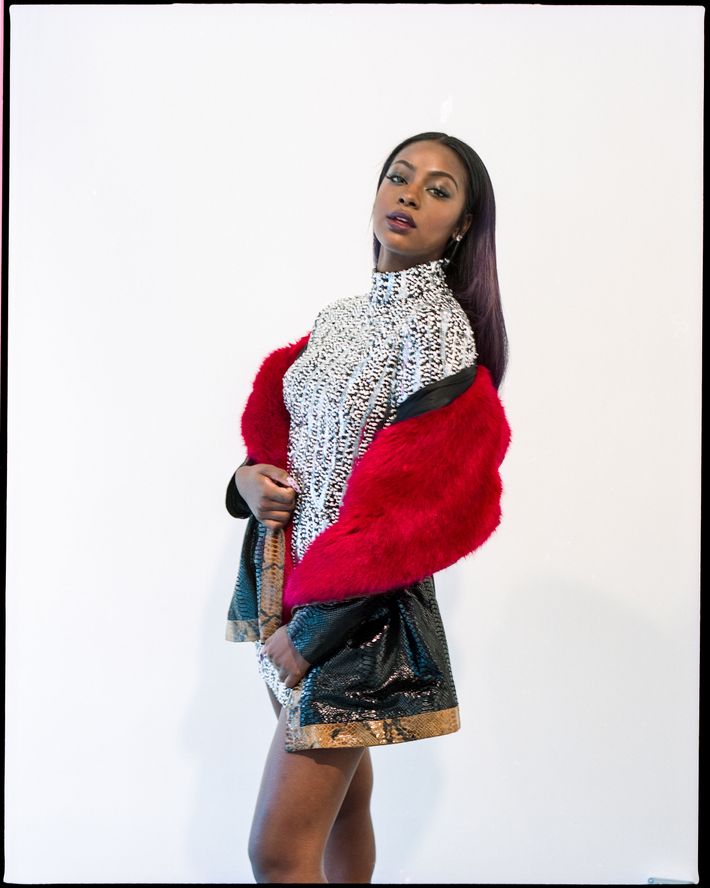 Kim Shui Coat, $2,880 at Kim Shui; Kim Shui Dress, price upon request at Kim Shui.
This year, she's performed at Made in America, Apple Music Fest, and MTV's Wonderland, but her upcoming performance at Webster Hall is the first time she'll be performing her hyper-personal new songs. "The album is about my love life and a diary of my life. I feel like I'm confused about love, like most people my age."
She embraces her Jamaican heritage in her style, as well as her music. "When I was 16, I started to spend a lot of time in Soho and downtown New York and noticed everyone's style and the eclectic things people would wear," she says. "And that's when I started to experiment with things like my lipstick and mixing different kinds of pieces, and of course my hair color." Her mother agreed to let her dye the ends purple, and she came home the next day with a head full of purple hair. She now describes her style as "weird and spontaneous," but the real test I noticed during our shoot is if she dances in it, she likes it.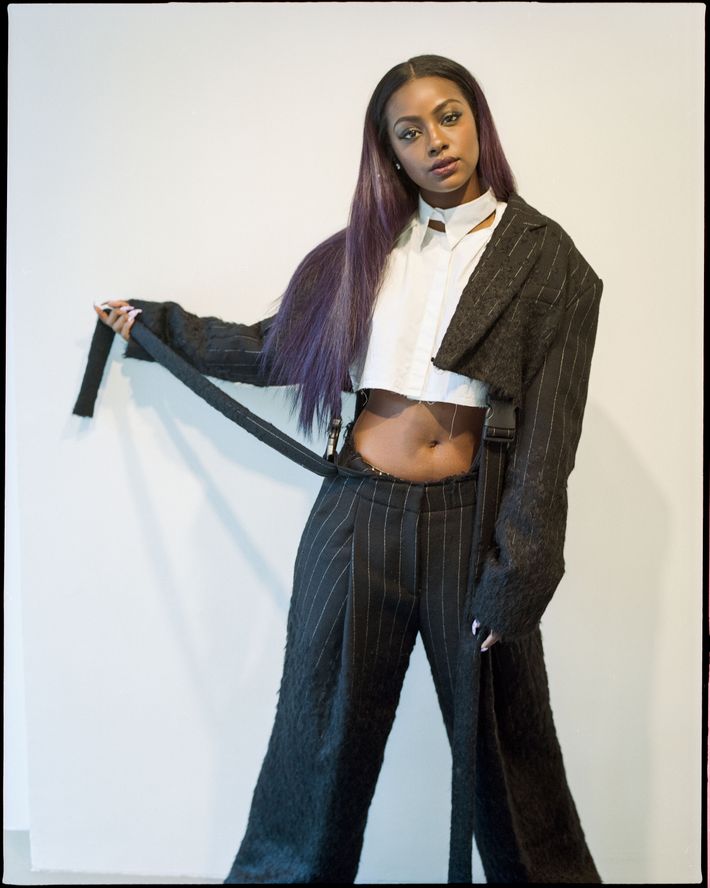 DKNY top, blazer, and pants, price upon request at DKNY.
Now that she's spent significant time in the spotlight, Skye admits that it has its upside and its downside. "One of the biggest things I struggle with is people's opinions. As much as I would like to say that I don't care, I see those comments. And sometimes it affects you more than others, or may completely change your mood. Social media is a huge struggle for my generation in general — it's a lot of pressure! Even having an Instagram is stressful. You have to make it look cool, posting it at the right time, and it's become its own job and not something where you connect with people."
Skye says tough love from her mother helps keep her on track. "Any time she feels like I'm slacking, she asks me how badly I want this and reminds me that this isn't the kind of industry where you have the luxury to fall off."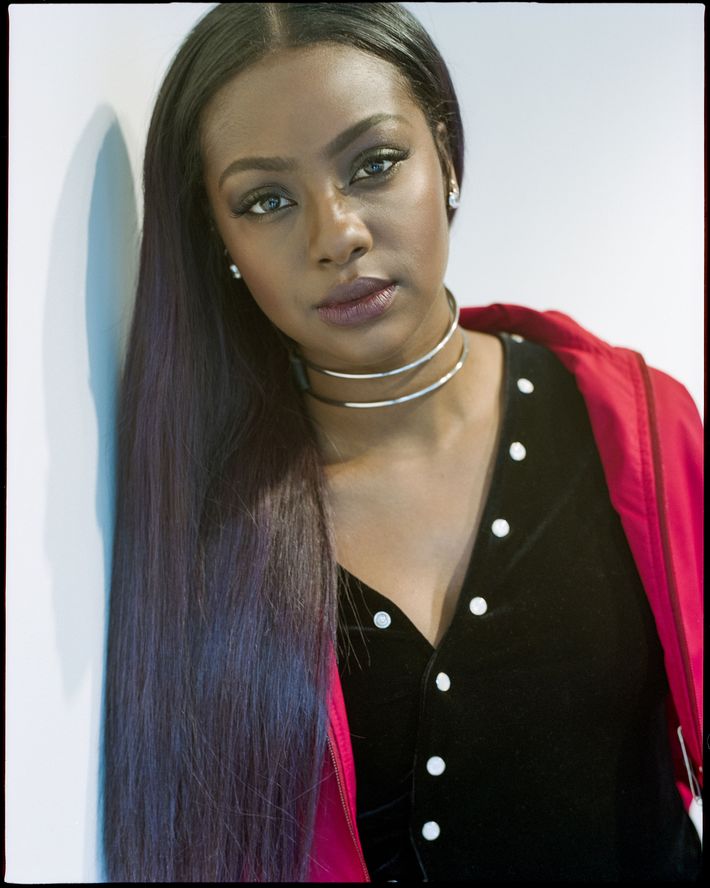 Eckahus Latta cardigan, $360 at Eckhaus Latta; Vetements track jacket, $1,185 at Net-A-Porter.
One look at her Instagram and her 936K following, and you'll see that the bulk of comments on her social media are young women looking for a role model. So what does she want her fans to know? "It may sound corny and cliché, but there was a time — and there are still times even today — when I feel lost or confused and I question if I'm doing the right things. Then I look at my fans and I listen to music and I'm reminded that this is my destiny. Even at my lowest point, when I've wanted to give up, I know that I have to believe in myself because I'm all that I have."
Photos by Andre Wagner, styling by Lindsay Peoples, makeup by Samantha Lau, hair by Tamara Laureus. lead image credit: Alexander Wang dress, $1,169 at Farfetch; Alexander Wang necklace, $279 at Alexander Wang.