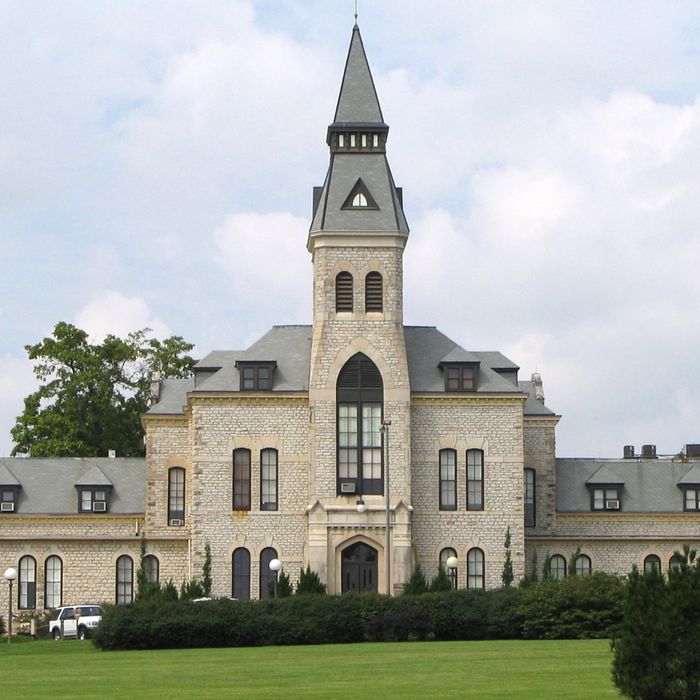 Kansas State University.
Photo: Allen Holder/MCT via Getty Images
Kansas State University allegedly refused to investigate a report of an off-campus rape in 2014, enabling the male student to rape another student the next year, according to a new lawsuit.
Two female students filed the civil suit on Monday in Kansas federal court, accusing the university of giving a "free pass" to the male student who raped them in two separate incidents, the Washington Post reports. One of the plaintiffs, 19-year-old Crystal Stroup, claims she was raped by "J.G." — as the male student is identified in the suit — at her off-campus apartment.
Stroup reported the rape to police in the hopes that she would prevent a similar attack from happening again to someone else. It was then that she learned J.G. had been accused of attacking another student, Sara Weckhorst, the previous year. "I was the 'somebody else,' and that really hurt. And that motivated me even more," she said.
The Post "generally does not identify the victims of sexual assault," but the two women wanted to go public. Together, Weckhorst and Stroup filed their suit against the university, citing negligence and violation of their rights under Title IX, the federal anti-discrimination law. The suit focuses on how the university handles sexual-assault investigations.
Steve Logback, a spokesperson for the university, said Kansas State had no comment on the lawsuit. "K-State provides support and assistance services to all reported victims of sexual assault, regardless of where the assault is reported to have occurred," Logback said.
Criminal cases over the 2014 and 2015 rape charges are also moving forward in state court. According to court documents seen by the Post, Jared Ralph Gihring has been charged with rape and sodomy in the assault against Stroup, and rape in the alleged attack against Weckhorst.