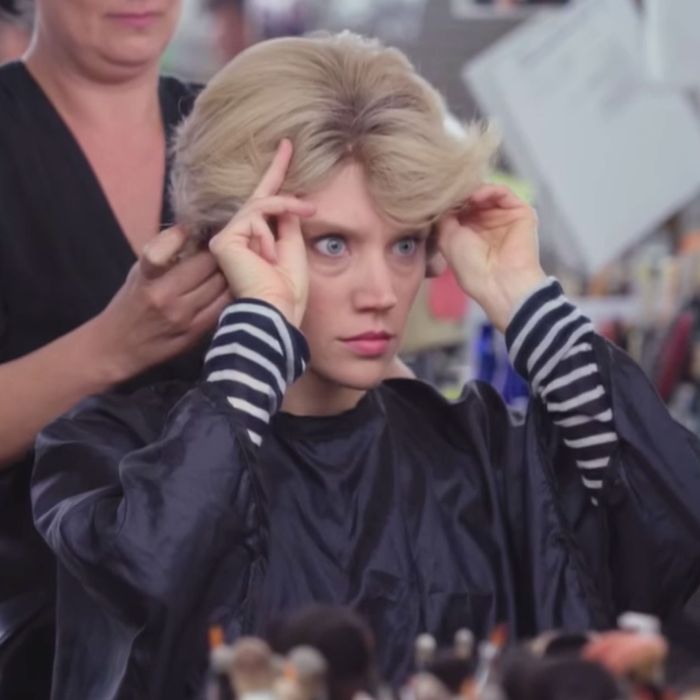 Kate McKinnon becoming Hillary Clinton.
Kate McKinnon and Alec Baldwin have been doing spot-on impressions of Hillary Clinton and Donald Trump on Saturday Night Live leading up to the presidential election. In a new behind-the-scenes video, Louie Zakarian, SNL's makeup department head, and Jodi Mancuso, who leads the hair department, explain how they transform the actors into the candidates.
To turn Baldwin into Trump, the teams created a set of "huge, arching, over-the-top" eyebrows and used very orange makeup. As for the wig, which took at least 50 hours to make, the team found that using "less hair" made it look more realistic. "[Trump] probably does his hair in five minutes, and it took me a whole day to get it," Mancuso said. "It worked out really well with Alec, and he really looked like him, pretty easy."
The team also meticulously transformed McKinnon into Clinton. The hair-department head explained that the actress is petite and "everything looks huge on her." So, while Clinton may have "a lot of hair," they had to scale it by half to make McKinnon's wig look real. They also focused on getting the right eyebrow shape and using Clinton-esque lipstick shades — particularly through easy-to-remove makeup, so that McKinnon can quickly change for her next sketches.
Check out the full video below.