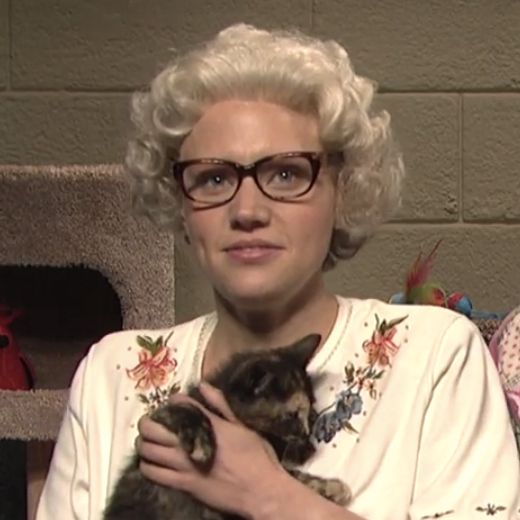 Hold on to your jorts.
Photo: Saturday Night Live/NBC/Hulu
Last night on Saturday Night Live, Kate McKinnon enlisted Kristen Wiig for one of her special "Whiskers R We" commercials that plays on all the crazy-cat-lady tropes and then some. As Barbara DeDrew, Kate McKinnon leans in on her real-life cat-lady status — watch this video of her talking about her feline son, Nino — while Wiig does her creepy best as Furonica, who apparently spent some time in a doomsday bunker.
Check out all the kittens available for adoption during the Whiskers R We Thanksgiving Catacopia Adoption Drive, but watch out for Carl — he will claw your sofa and he voted for Jill Stein. Butternut will gaslight you, Pearl is a ghost with unfinished business, and Cassandra will fart and you'll get the blame. So, typical cat stuff.