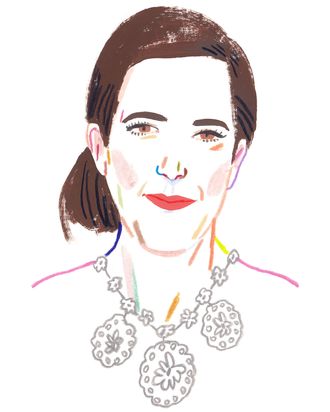 Illustration: Rebecca Clarke
Kate Spade — previously the owner of Kate Spade — is now the designer behind Frances Valentine. (This year, she officially changed her name to Kate Valentine to pay tribute to her new line.) She has one daughter and a husband who works alongside her, and she recently started drinking Diet Pepsi in the morning. Here's how she gets it all done.
On a day in the life of a fashion designer in charge of a new brand:
I normally get up at 6:30 and get everything organized by the time my daughter gets up — I'm a little OCD. I turn on all the lights, get everything going, start making breakfast. I slowly wake up my daughter up — I give her a little nudge every ten minutes. I swear to god, it's so exhausting. She's going to be 12 at the end of February. I feed the dog; I feed the fish. My husband, Andy, runs to Starbucks because he doesn't want any part of that banter. I'm in my daughter's room going, "Oh my god, I asked you 20 minutes ago and you're still in your pajamas." It's a little mini battle. She's jealous of our dog because he doesn't have to do anything.
Andy takes her to school and I settle down to read the newspaper and watch the news. I text all the stuff to my assistant that I know we need to do for the day beforehand; when he's up, he calls and says, "Okay, this is what we have to do today." A lot of my morning is spent sending emails because I don't respond to emails or even check my email after seven o'clock at night.
I do a lot of calls with Paola in Milan, who does our shoes, and Anna Marie, who does our bags. We talk through Skype or phone calls, so I'm literally in my pajamas doing all of this. It sounds so lazy but it's true. Then I buck up, get ready, go to the office, and just look at everything that's going on. I look at samples; I look at sketches; we go through materials. Then we eat our lunch, which is generally pretty healthy — Hale and Hearty salads. I'll spend a lot of time going over production, talking about when everything is landing and when I'm getting my next samples. Then we'll all be on the phone with Paola about shoes. I'll say things like, "Show me an example of the fur we're doing on top of the shoe." Like, is it too silly? She'll show me, and I'll say, Ooh, could it be more square? All the little details go down in the office — running the business and kind of figuring out why our buyers are buying what they bought and making sure we're always delivering on time.
Our family has dinner together every night — you can tell that my daughter wants to run. After dinner, I go up to my room and immediately put on my pajamas. I mean, immediately. I read some things that I haven't read yet and I jump into bed. If my daughter has finished all of her homework at the end of the night, we'll watch a show together, like Modern Family, which is okay for all of us, or Seinfeld. Then I'm usually asleep by 10:30 or 11.
On keeping her home life structured to balance the unpredictability of her work life:
Work is different every day. Our home life is much more predictable. My daughter goes to school; we pick her up; she has tennis. We're committed to getting home to eat dinner every night together. It's a thing that Andy and I decided to do when she was little. When she got older and she had all these activities, it became a little more difficult, but I still made it a point to have our dining-room table set, just so she knows that there's structure. We want to sit together as a family and talk about our days.
On having a scrappy mentality about her business:
I am sure there are places that are well-oiled machines, but this is a relatively new business and I'm looking at it like that. It's really similar to how I started at Kate Spade: It was very scrappy. We started very small and we tried not to get ahead of ourselves — I'm from the Midwest, so I'm not much of a risk-taker. We are really listening to the buyers and the costumers. What are they buying? What are we doing right? What are we doing wrong? I'm not big into social media, but Andy is, so we put a lot up on Instagram for the brand.
On the music that gets her ready to run:
If I run, I'm much healthier — I run on a treadmill. I used to do the park, but I prefer to walk around the reservoir, so when I want to run, I take to my treadmill down in the basement. It kind of helps me get all this stuff out. I listen to this loud music. I listen to the Rolling Stones and the Jackson 5 a lot and it makes me faster.
On the freedom of being in charge of your own company and deciding your own hours and office:
I work from home a lot. I think I get as much work done at the office as at home, and I'm used to working with people who don't work in the office. I don't really care where they are, even if they're on a banana leaf somewhere. If they deliver their work, I am completely fine. I don't need someone sitting at their desk to produce.

The best thing about being a business owner is that you get to run your own schedule. Although you owe the most to the business, you also get some hall passes, where I can be in charge of rescheduling things. You owe so much responsibility to the company that you can't even imagine. Some days, I would really like for someone to tell me what to do. Wouldn't that be great? To have someone saying, "Okay, you need to do this, and next you need to do this." I joke with my daughter that she has it so easy because I tell her what to do every second.
On why being a mother is the most stressful job in the world:
Being a mother adds an enormous amount of stress to your life. You need to make sure you're there for everything. We don't have other people to do it for us — I want to make sure I'm there. When you're trying to be a parent and a businessperson at the same time, that is the most stressful thing you could do. I can luckily bolt out when I need to. I can't when it's really important, obviously, but Andy will fill in. I've never missed any of her events, but I know one is coming up in February and I'll be gone. I have to be at a personal appearance. This weekend, I went away. My daughter asked me when I'd be back and I told her tomorrow night and she said, "Why so early?"
On why you should only get into fashion if you have the courage of your convictions:
A woman came up to me at my daughter's school and said very quietly, "My daughter is interested in fashion," as if it's not something you'd want to go into. I knew what she meant — but at the same time, you do know that you're talking to somebody in fashion, right? My daughter's school is very into academics. I don't think that fashion is something people encourage in a lot of schools, but I think they should — it's all about personal expression.
When I started at Condé Nast as an assistant, you worked your way up. That may not have been so fun, but it absolutely gave me the most amazing sense of resilience and resolution — hearing people say, Don't come back to me with a no. You have to make this happen. You either want to be in fashion or you don't. You'll either make it or you won't.
On her new way of waking up in the morning:
I've started drinking Diet Pepsi in the morning. Isn't that weird? When my daughter wants some, I tell her there are certain things that adults can do that kids can't. My life is a little kooky but a lot of fun.