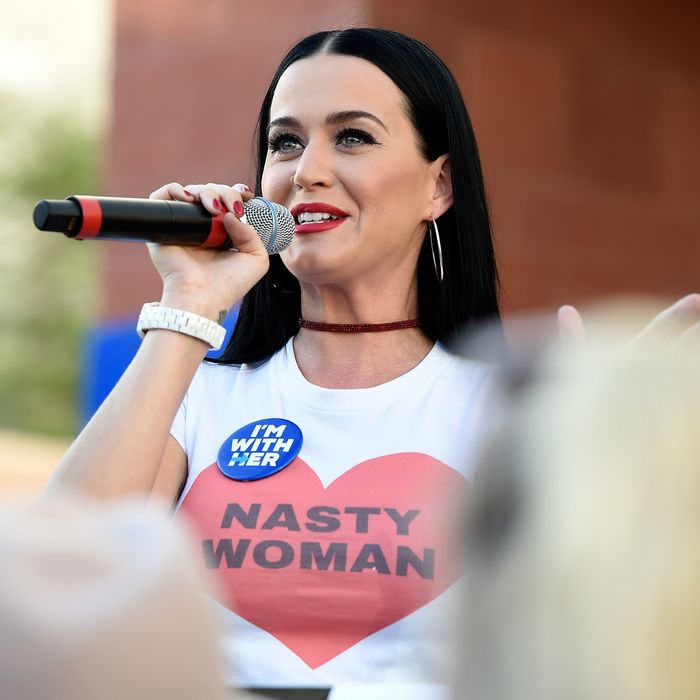 Photo: David Becker/Getty Images
Days after Donald Trump shockingly defeated Hillary Clinton in the U.S. presidential election, notable Clinton supporter Katy Perry has written a moving open letter on her Instagram page that implores her fans and supporters to donate what they can to Planned Parenthood. Perry herself donated $10,000 to the nonprofit organization, whose future currently stands in limbo with a Trump presidency, as he had vowed to defund it (and Obamacare) if elected into office. In the letter, Perry discussed how much Planned Parenthood helped her learn about women's reproductive-health care in her teenage years:
It's time to turn words into action! There are so many steps to take, but my first vow is to support organizations that may have their funding support taken from them in the future by the government. I am making a public donation to Planned Parenthood for the teenage me who made several visits to first a clinic in Santa Barbara and then Los Angeles, CA to educate myself on my sexual health, a subject I had little to no information on because of my sheltered upbringing. I had no idea how things worked down there, and had no idea how to make a plan for them. Planned Parenthood educated me on my body and my reproductive health, so that I could focus on my dreams and using my voice until I knew the timing was right for me to make a plan to have a family. Since then, I have been able to focus wholeheartedly on bringing messages of strength and becoming a voice for others. Without this education, I may have had a different life path.
Perry also explained how important Planned Parenthood is to low-income families, like the one she grew up in:
That is just my experience, but I know Planned Parenthood's broader range of services can sometimes be the only medical support low-income families ever see. I know what it's like to need help. I came from a lower- to middle-class family and never grew up with the option of health insurance. I remember having 13 cavities as a teenager, and the best option my parents could come up with was to try and take me to Mexico because we couldn't afford anything in California. I am grateful for and stand in support of Planned Parenthood for giving Katheryn Hudson the knowledge to plan, and for continuing to be a haven for women to learn all options for their future. Now, more than ever, we all need to protect and create safe places for each other. I hope I can help inspire you to make a gift as well, and become a member and an ally. #wewontgoback
To learn how to donate to Planned Parenthood and other charities, click here.