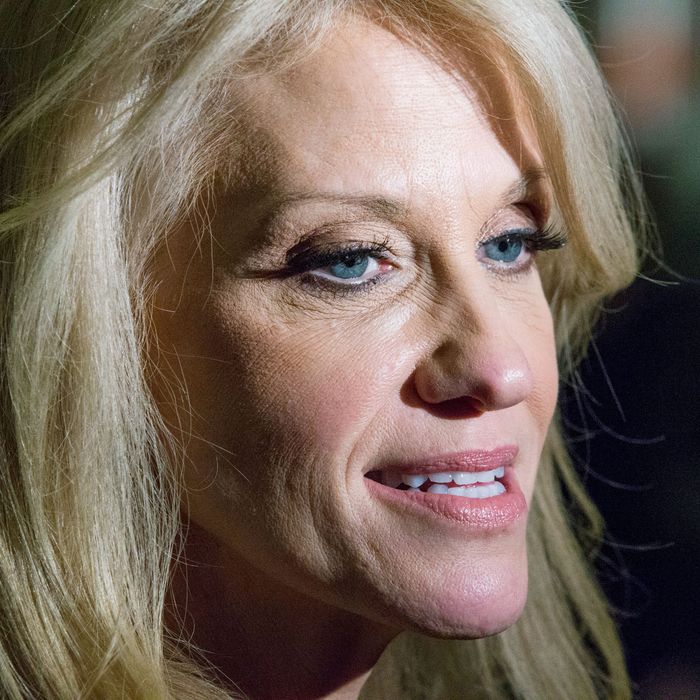 Kellyanne Conway told MSNBC she can have any job she wants in the Trump White House.
Photo: EDUARDO MUNOZ ALVAREZ/AFP/Getty Images
On Sunday, former Trump campaign manager Kellyanne Conway loudly questioned whether Mitt Romney should be considered for secretary of State. "People … feel betrayed to think that Governor Romney would get the most prominent Cabinet post after he went so far out of his way to hurt Donald Trump," she told CNN's State of the Union.
"Sources familiar with Trump's thinking," told MSNBC's Morning Joe that Trump was "furious" at Conway's comments, which he had not sanctioned. Just after hosts Joe Scarborough and Mika Brzezinski reported this tidbit, however, Conway texted Scarborough on air to take issue with it.
"We have a response from Kellyanne Conway who says the reporting this morning, it is sexist," Scarborough said, reading it aloud. "She says she can have any job she wants and is thinking about taking a role inside and outside of the campaign."
Scarborough defended the show's reporting by citing its sources. "Is she suggesting that … the three people at the top of the Trump transition campaign are sexist? Because that's where all the sourcing comes from," he said.
Conway has yet to elaborate, but this isn't the first time she's called out supposed sexism. She accused Tim Kaine of being sexist for interrupting his female moderator during the vice-presidential debate, and in a New Yorker profile, she called a BuzzFeed News article about her role in the campaign "really sexist." "And I'm not one to run around screaming about sexism," she added.