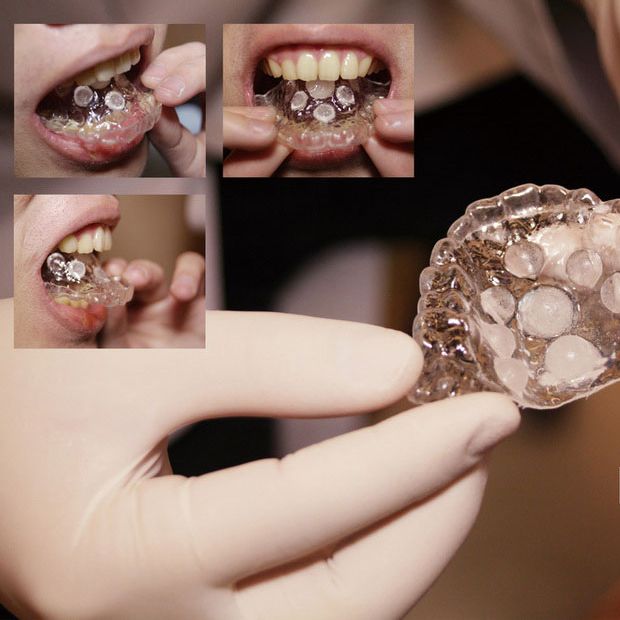 Photo: Courtesy of Kuang-Yi Ku
As far as sex acts go, blow jobs tend to require little to no outside equipment — but Taiwanese dentist and artist Kuang-Yi Ku is looking to change that, one dental retainer at a time. If the idea of a retainer brings back memories of accidentally throwing yours out while clearing your lunch tray, rest assured that these are slightly different.

Ku's work was on display from November 1 through the 4th at Science Gallery London* in an exhibit called "The Fellatio Modification Project," which "examined bodily transformation aimed at enhancing sensory pleasure during oral sex, particularly in male gay culture." Per an interview Ku did with Dazed Digital, the retainers are soft and contain ridges on the bridge of the mouth; because each one needs to be custom-made for the wearer, it's currently cost-prohibitive to mass produce them.

The exhibit also featured "The Cunnilingus/Anilingus Modification Project," in which fourth-year dentistry students Anisha Gupta and Carly Billing aimed to create a single-use wearable oral device that could be used during those acts — in essence, a better (hands-free) dental dam.

But these are only the beginning. "In the future, I imagine people might want to permanently modify their mouths," Ku told Dazed Digital. "They might get the soft tissue added into the roofs of their mouths."

Ku is also the man behind Tinder for pets and speed-dating for dogs, making him, by far, the most interesting dentist in the world.

*A previous version of this post incorrectly identified the Science Gallery London as King's College Gallery.