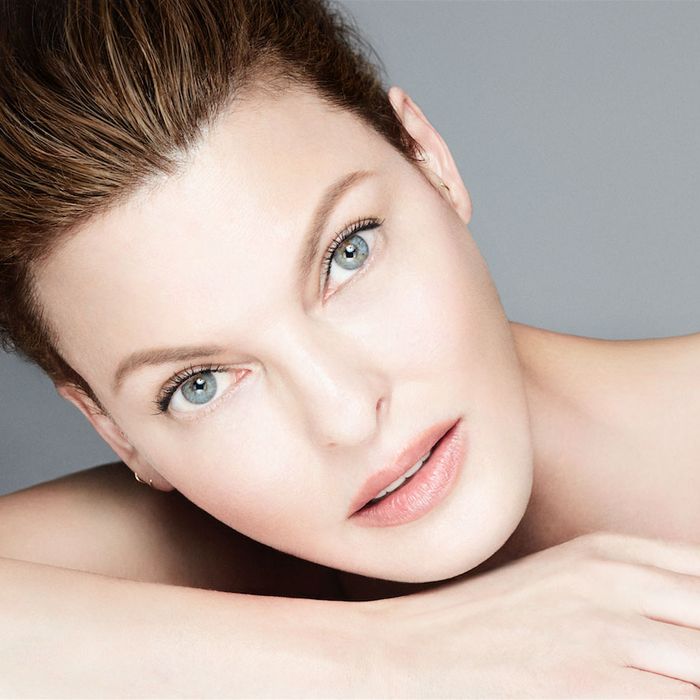 Linda Evangelista.
Photo: Courtesy of Erasa
Every week, Linda Evangelista tests a new moisturizer. She's on number 52 right now — the 52nd prototype of a soon-to-be released new product that's still being tweaked, which she receives each Wednesday at a cosmetic lab in Elwood, New Jersey.
Supermodels with 95 Vogue covers generally don't make lab visits (especially if they don't even roll out of bed for less than $10,000). But as the new creative director for skincare line Erasa, Evangelista is more than just a face: She offers direct feedback on products (something she does with joy, as a self-described "product junkie"), puts her fingers in everything, and talks excitedly about cosmetic inside-baseball topics like oropheres, a particle that gives a soft-focus effect to the skin.
Erasa's hero product, which Evangelista discovered by chance and loved so much that she reached out to the company herself, is the $160 Erasa XEP-30 Extreme Line Lifting and Rejuvenation Concentrate, a potent serum that uses a mix of collagen and a synthesized peptide from cone-snail venom to give a "Botox-like" effect. Linda Wells talked to Evangelista and Erasa's chief technical officer Jules Zecchino, about the best way to combat dark eye circles, the power of exfoliating mitts, and what she keeps in her beauty fridge — yep, she has one.
Linda Evangelista: I first learned about Erasa from Georgia Louise, who does my facials. Her husband, Marc, gave it to me, along with a mug. And he's not even in the beauty world, he's in the financial world.
Linda Wells: A mug? Who needs a mug?
LE: I actually like the mug [Laughs], because it's tall. I have these tall mugs, I like them.
Marc said "Would you try Erasa and give me some feedback?" I put it on my night table because I said, "I want to look this up." But Georgia gave me this huge typed-out nighttime beauty routine. I put it in this little frame up on the wall. Jimmy, my brother, puts up shelves for me and I number the products. I'm so excited. But if it's late at night and I have makeup on (which is rare) and then look at all that, I'm like, "Bye, bye."
LW: Then there was Erasa.
LE: Yea. But I didn't really understand that at the time. I have my ten-times magnifying mirror, because that's how I tweeze, and I'm like, Something's up. After three weeks, I realize my melasma is down and my pores are smaller. And I've got two of these magnifying mirrors!
I started using [Erasa] morning and night. My melasma was 30 percent better, so I began upping the pumps. Then I ran out and I called Marc, and said "I need more and who are these people? I want to meet these people." I've never ran out of a product before. I've also never asked to meet the person who made it.
Jules Zecchino: I was excited. I got a call saying, "Linda Evangelista wants to come in and say hello." [Laughs]. We said, "Hey Linda, you wanna come to the laboratory?"
LE: And now, I go every Wednesday. Sometimes we have to cancel and I'm like, "Why?" I love going to the lab. You get a high in there and then I get buzzkill too, because I've been learning not so happy things about products and molecules that I had been using. I stopped using my Touché Éclat because my dark circles are gone.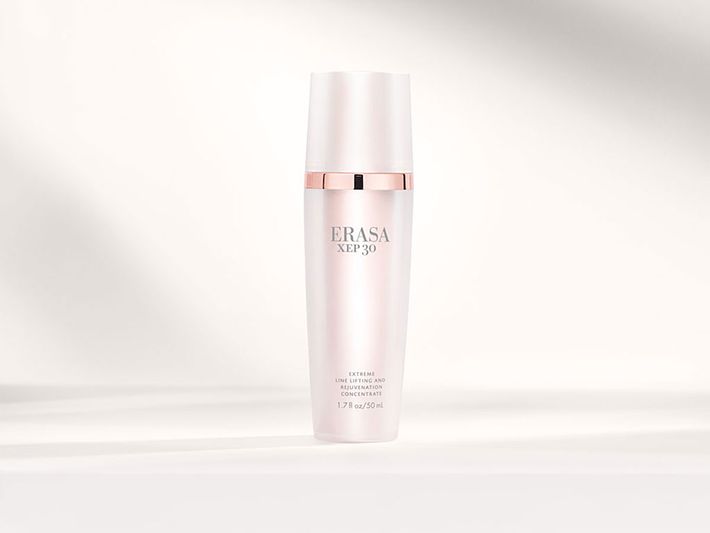 Peter [Lindbergh] always said, "Oh I love your cernes. You have the best cernes." And I was like, What is that? It wasn't till much later that I found out. Odile [Gilbert] was like, Your eye bags. He likes your bags. And now, they're almost gone. I haven't had Fraxel and in 2016, I haven't had Botox.
LW: Have you been a product junkie your whole life?
LE: Yes. Absolutely. My mom got me Clinique — the bar with the three step program. I was so fortunate as a teenager. I had that monthly one pimple on the chin.
I didn't know that later in life I would have so many skin issues. You take it for granted, like, Oh, I didn't have acne, everything's going to be great. Now I'm sensitive. And the melasma and some rosacea. Eczema on the hands because I overwash.
LW: But you've been a discoverer of products. Paul [Cavaco] came back from your Christmas dinner with that mitt.
LE: It's such a good mitt! Why haven't those mitt people sent me a mitt? I remember one time, in a British interview, I had said that I liked Party Feet from Dr. Scholl's — those insoles in the ball of your foot? I said, "They just make standing on heels so much easier." The company sent me a coffin-size box.
But I open it; it's every Dr. Scholl's product except for the Party Feet. I don't have athlete's foot. I don't have corns. It was like all these foot sprays and powders and I just wanted some Party Feet. [Laughs]
LW: So tell us more about your skincare history? Do you still go to facials?
LE: I go every week to Georgia Louise. It doesn't always happen every week because she has to cancel or I'm not here, but I have a set appointment. I discovered her.
LW: Who else did you discover?
LE: Mario Testino. I gave him his first Vogue cover. I chose him. Someone at my agency said, "There's this guy, why don't you give him a break?" I was like "Okay." Mhm. I've been reading these interviews about how he got started, I'm not mentioned. That's okay!
And I did help M.A.C put the Spice lip pencil on the map.
LW: Right. You did.
LE: Kevyn Aucoin made his own version for his own line. I got the last ones. I was in Japan before 2006, and I harassed the people at Inoui and they gave me their last ones. They were like, Here's the last eight. I use them down to till they become a little nib. They're in my beauty fridge now [Laughs].
LW: Have you always had that?
LE: No, I got it a few years ago because I had an overabundance of sunscreen that I bought in Canada that had Mexoryl in it. Lord knows why you can't get it here. You can get a nice fridge for under $200, it can be less than one beauty product. I set it on a low, not a high temperature so I'm not freezing my products. And inside are the sunscreens and other discontinued things, mostly makeup, to try to preserve them.
This interview has been condensed and edited.