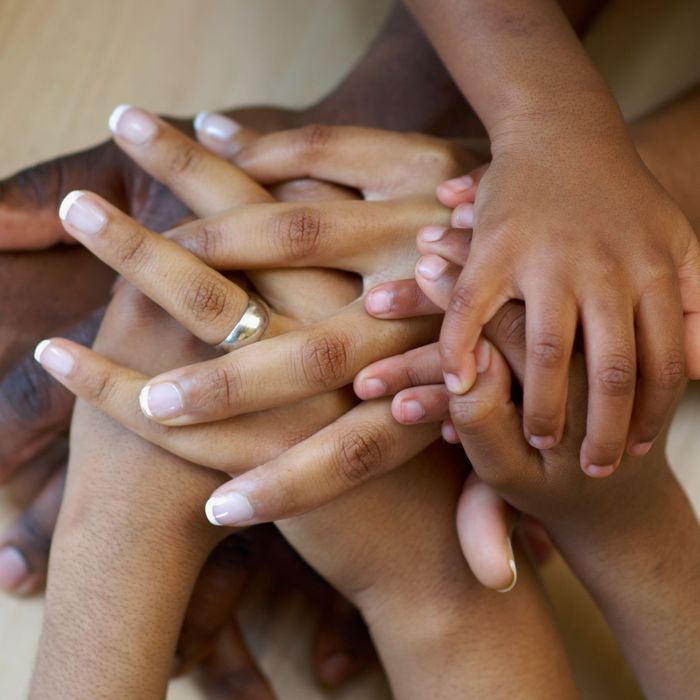 Photo: UpperCut Images/Getty Images
This summer, the Clinton campaign released an ad called "Role Models" in which wide-eyed kids watched some of Donald Trump's most appalling moments: calling Mexicans "rapists," mocking a disabled reporter, longing for the good old days when protesters would be beaten. The ad gave parents a glimpse of what a Trump presidency might be like, but nothing could have prepared them for how to explain to their children what happened in the wee hours of November 9. How do you tell a kid who's excited about Hillary Clinton that the other guy won — especially when you're still trying to wrap your own mind around the news?
Latham Thomas, who is black, took her 13-year-old son to Hillary Clinton's Election Night party at the Javits Center in hopes of celebrating the breaking of the ultimate glass ceiling. But by 9 p.m., she said, the mood went from joyous to ominous. "My son wanted to go," she says. "We left by around midnight. He was like, 'I don't want to cry out here, because, how is this our reality?' He only knows President Obama. I took him to Obama's inauguration when he was in kindergarten."
Thomas's son asked if he could take Wednesday off from school. "I thought he wanted to avoid gloating classmates," she said. But he clarified that he felt drained seeing everyone so sad at the party and knowing "'We were going to wake up to realize we're stuck with a bad guy.' And I do feel like we need to talk to our kids and give them the space to speak. This election was so nasty and so prominent — it was in the media and social media, and the kids were exposed to everything."
She decided to compromise with her son and let him sleep in, waking him up to watch Hillary Clinton's concession speech so they could discuss it afterward. "And then I took him to school. I assured him it would be a short day, but felt it was important he go. I said, 'We are going to get up and do what we have to do and we're not going to not be who we are. But I don't want you to hold on to feelings.' I just don't want him to let somebody make him change who he is or alter his peace of mind."
Thomas worries for her son, who, at 13, is not finished growing. "As he gets older, the same people who say my black son is cute now will be trying to put him in jail because they will find him threatening." And with Trump at the helm, and the possibility of stop-and-frisk-happy Rudy Giuliani as Attorney General, that anxiety only intensifies.
Linda Villarosa, who lives in Brooklyn with her partner and high-school-age son (she also has a daughter away in college), watched the returns with her family. By night's end, "Nic, our very woke 17-year-old, was curled in my arms, crying — all six-foot-two of him," she says. "We had just gotten off the phone with his grandmother. Through my mother's sobs, she said she felt like all of the struggle she had been through as an 86-year-old black woman in America had been erased. Nic was 9 when President Obama was elected, came of age at a time of political idealism and social change, so his world was shattered."
But by Wednesday afternoon, Nic was transforming his grief into action. "He texted me from school and asked if he could attend the rally against Trump in Union Square," Villarosa says proudly. "I said yes, of course, and I'm going with him."
Jasmine Banks, a licensed therapist in Arkansas, says it's important to validate your kids' feelings. "When they say, 'I think Trump hates black people so much that he's gonna come kill all of us,' don't detract from the reality that this has happened around the world, but also remind them you're their parents and it's your job to keep them safe. Remind them you love them very much."
Banks currently lives in a "former sundown town (i.e., 40 years ago there was a sign that read "Niggers Not Out Past Dark") with her genderqueer partner, Mo, and three kids ages 9, 6, and 5. She says that "we allow our kids to feel the fear and reflect back what they're feeling, like, 'Oh, buddy, that sounds very scary, you're very scared right now, you're feeling a lot of anger.'" They prepared their children for the prospect of a Trump presidency because "they are black children and so they have a full understanding of what our future can look like when people in power who support white supremacy have the reins for things."
Her 9-year-old son had a mock election at school, and Trump won handily. "Most of his friends said Hillary wanted to kill babies in their mommies' belly, she wanted to let people be gay, and she was going to let Mexicans come and take over America," says Banks, "so we had a lot of ground to cover."
Still, no amount of preparation can quell the anxiety. "My oldest's first question was whether my partner and I, who are engaged, can still get married in May. What a difficult question for a child to ask," says Banks. "I explained it's gonna take awhile for him to be able to make any changes to laws that have been established. But I didn't want to get in the trenches about it all, I just wanted to honor that that's where he was at and that's how he saw it."
"I think it's really important for folks to recognize that the wound on the collective psyche of children in the U.S. is going to be a deep and lasting one," she went on, "particularly for those of us on the margins, because our kids don't see this as a moment where a person just hates the collective Muslim identity, or the collective black identity. They look for the things that they identify within the people who keep them safe — their moms and dads and caregivers. They personalize it because that's where they're at in the world. They see a president who hates their mom."
Sara Duyal (not her real name), a divorced mother with two daughters, ages 8 and 10, is surrounded by Trump supporters — not only her New Jersey neighbors, but her Turkish-Muslim parents and her ex-in-laws. "My parents accused me of brainwashing my daughters toward Hillary. It's been an awful ride. They believe in nationalism taken to almost a religious fervor. They will try to couch it in feminist terms, like Islamophobia is understandable because of terrorism and because Islam oppresses women. But there's no feminism involved beyond the ripping off of hijab. My parents have always been Republicans, but their Trump support really surprised me."
Her girls, she says, don't yet fully grasp what it means that Trump has carte blanche now that the House and Senate are also Republican, though her older one is worried about her little cousins, who emigrated from Turkey. She thinks they're aware of her own anxiety, but she doesn't believe in hiding her politics from them. "We have very frank talks where I've explained fascism and Marxism to them," she says. "I am very opinionated and I always answer their questions as they come — that open dialogue is essential. So is my never asking them to care about or pledge allegiance to things they don't care about. But they were not ambivalent about Trump, even though both sets of grandparents are supporters — I did not feel I had to influence them because they have a natural zero-tolerance policy toward bigotry."
"You have to teach children bigotry," Sara goes on. "My younger daughter was most upset about what Trump had to say about Mexicans, and especially the idea that people can be deported en masse or that a wall could be built to keep people out who wanted to improve lives for their children. She immediately started talking about how nobody would stand for that and how everyone would protest, while my older daughter thought he came across as crazy and unsafe to have as a president. So while sometimes I think they think I'm overly dramatic, ultimately I have confidence in my girls' views and in their father's and my ability to make them feel safe."
Making daughters feel safe in a Trump world, though, isn't easy. Jen Deaderick and her 12-year-old daughter were canvassing for Hillary Clinton in New Hampshire last weekend when a man yelled "I'll grab your pussies!" at Jen's daughter and their friend as they held up Hillary signs. "She knows it's connected to Trump," says Deaderick, who lives outside of Boston.
"I had to convince her to go to school on Wednesday, so I compared it to when I went through September 11. It was scary to go into Manhattan, ride the subway, go into tall buildings. But we did it because we felt like if we didn't, then the terrorists win. That's when I realized this election feels like terrorism to me. But I reminded her of all the kids in her school who would be scared today, and told her it would be good for them to all be together, to take care of each other." Quelling her disappointment, however is another matter entirely. "She said, 'You told me I was witnessing a vote for our first woman president!'"
Robin Marty's 8-½-year-old daughter, Violet, woke up on Wednesday and said, "You never woke me up," expecting to be roused to hear great news. "I had to tell her that Trump had won. Her face flushed and tears filled her eyes. I told her that sometimes the good guy doesn't win. It just means we have to try harder, and help the rest of our community along the way. That seemed to help."
When her daughter, who is the eldest of Marty's three kids, happened to catch the final ten minutes of the second debate, Trump became more real for her. "She was horrified — they were talking about the sexual-assault allegations. While we talk about how Republicans often don't support same-sex marriage or pay equity or why it's important to allow people from other countries to come here to be safe, this election felt too NC-17 to let her dig into. The idea that I had to shelter my child from a presidential campaign was horrifying. How do I tell her not to swear like the fifth-graders when she's watching a presidential candidate say 'bitch' or 'pussy'?"
But just as it is important to keep talking with our kids, it is also important to keep them, and ourselves, from feeling powerless. "I told Nic that that it's young people like him who are the future, and that they will lead us out of this mess," said Villarosa. "But then I came correct: It's not just on his generation; all of us have to figure out together how to hold tight to our values and make our way back to what is real and right."