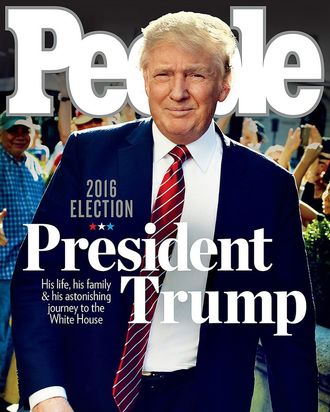 On November 9, once we knew that Donald Trump would be the next president of the United States, People magazine quickly began to publish content that shamelessly pandered to the Trumps: slideshows of Ivanka's "way too cute" family photos and musings about how Trump would decorate the White House. People's newly positive Trump content was particularly surprising given the fact that in October, writer Natasha Stoynoff came forward with an account of being sexually assaulted by Donald while covering him and Melania for a story of the magazine in 2005; editorial director Jess Cagle published a letter of support for Stoynoff shortly afterward.

Upon noticing People's shift in tone — and its abandonment of Stoynoff, whose story has gone ignored since Trump's win — many are coming forward calling for a boycott of the magazine.

Further highlighting how much People magazine's coverage has pivoted, Trump supporters were calling for a boycott of People and using the #boycottpeoplemagazine hashtag back when the magazine published Stoynoff's sexual-assault story.