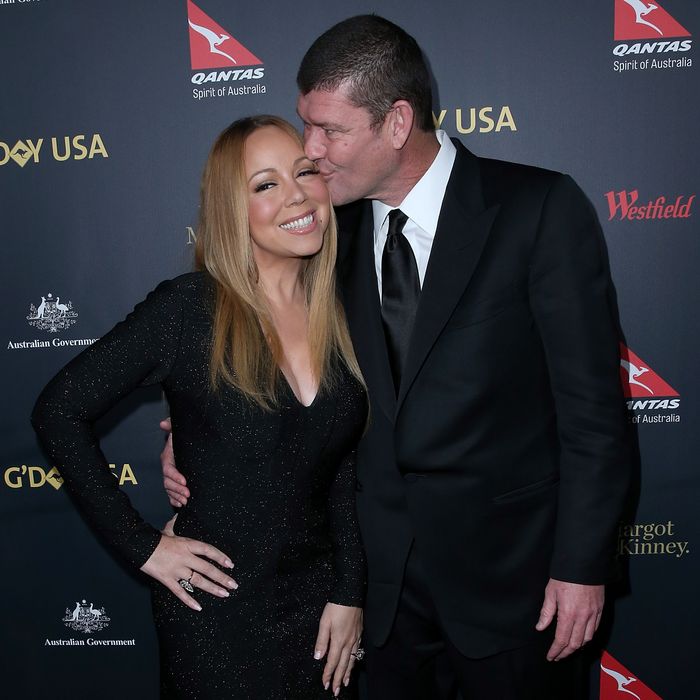 It's Mimi's world, and we're just living in it.
Photo: Jonathan Leibson/Getty Images
Page Six obtained outtakes from the upcoming E! reality show Mariah's World that show the pop star and her now-ex, James Packer, having a good time together. The longer clip shows Carey celebrating Packer's birthday with cake, singing, and giant sparklers, and the shorter shows Packer smiling and kissing his then-fiancée after someone off camera comments that they "make a hot couple."

There have been many theories about why Mariah Carey and James Packer broke off their engagement, but one of the more prominent narratives is that the Australian billionaire couldn't deal with Carey's divalike behavior. There have also been rumors of cheating, Scientology, a "tacky" prenup, and more, but some sources reported that Packer didn't like participating in Carey's upcoming E! reality TV show, Mariah's World.
Page Six writes,
A spokesperson for Packer's company previously told us that "he is not involved in any reality-TV program." But the billionaire mogul beams on video that's expected to be on the show when it premieres in December.
Page Six's source on Packer blames it all on Mariah.

James isn't a man who could be controlled, he is a very successful businessman … James isn't the kind of guy to listen to someone else where it comes to his private life. His relationship with Mariah ended because she is a diva, she has an entourage around her and she's filming a TV show, which is a crazy world that James doesn't want to be involved with.
Check out the footage over at Page Six.