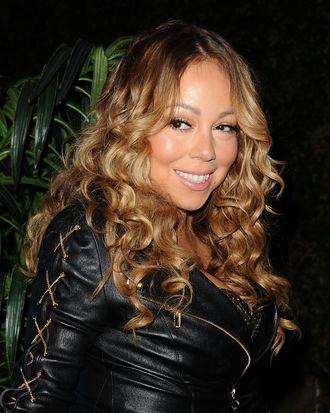 Mariah Carey.
Photo: Jason LaVeris/FilmMagic
There are many important milestones in a relationship: the first time you have sex, your first fight, your breakup, and, finally, when you take to social media to post photos of yourself having a grand old time after the breakup. A friend of mine refers to them as "jealousy pics," succinctly distilling them down to their essence and purpose.

News of Mariah Carey and billionaire fiancé James Packer's breakup surfaced last month; on Monday, Carey took to the beach with her backup dancer, Bryan Tanaka, to give the world one of the finest sets of these photos of all time. It's truly museum-worthy work.

Wearing diamonds and a Louis Vuitton cover-up over her swimsuit, Carey cavorts along a Honolulu beach, exchanging kisses with Tanaka, gleefully smiling as he picks her up and carries her into the water. Carey undoubtedly knew those moments would be captured by the paparazzi, and she delivered.

Most post-breakup photos are crafted casually and subtly in an attempt to mask their inherent pettiness, but when was the last time Mariah Carey did anything casually or subtly? Let her serve as a beacon for us all.