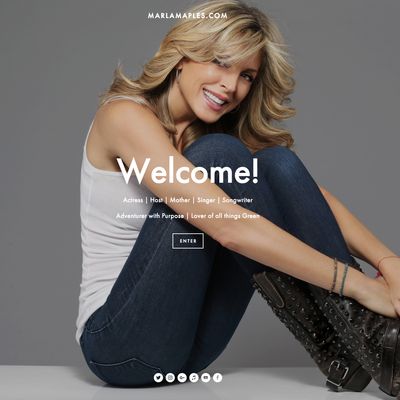 It's the year 2016, and every minor celebrity is required to run some sort of side lifestyle hustle by decree of our Goop overlords — which brings us to Marla Maples's new site. Donald Trump's ex-wife and the actress/host/mother/singer/songwriter/adventurer with purpose/lover of all things green (septuple threat!) announced the launch of MarlaMaples.com last night on Twitter.
Over at MarlaMaples.com, one can finally access several passions of Maples's in one convenient place.

For instance, under the "Wellness" tab, we learn that Maples describes herself as a "vegan, yet part-time carnivore (lol!)," which, I must report with a heavy heart, is not a thing. Maples also posted a kale and quinoa salad recipe that once had the honor of appearing on Oprah's show and a video extolling cryotheraphy. Before you ask, no, Maples does not eat gluten.

When you click over to "Products," you are treated to three of "Marla's Creations." The Endless is described as a "musical journey of spiritual awakening and transformational energy." The One World of Love Benefit Album seeks to "inspire peace, love, and unity through music." There's also a link to Maples's podcast, Awakening. None of them are bangers like Tiffany's forgotten pop song.

Maples also dabbles in "Adventures with Purpose," including a trip to Mexico to install water-filtration systems and a trip to an orphanage in Malawi. For her fans, she also generously includes an address to send any requests for her autograph.

All in all, I give it three out of five possible Goops.