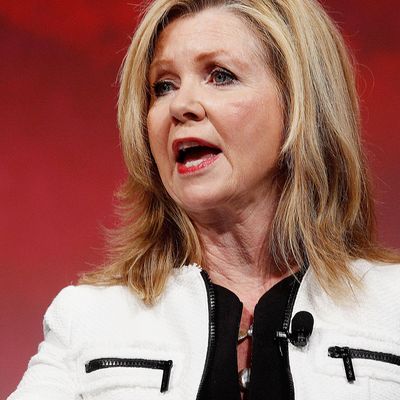 Marsha Blackburn.
Photo: Mike Stone/Getty Images
Mere days after Donald Trump was elected as the next president of the United States, he has already dealt women a serious blow by naming Congresswoman Marsha Blackburn — an outspoken opponent of Planned Parenthood — to his transition team.
Vice-President-elect Mike Pence, a man who's notoriously anti-choice and also doesn't understand how condoms work, was named the chair of the 12-member committee. Its female members include Trump's favorite daughter, one of his donors, the Florida attorney general who accepted controversial donations from Trump, and of course, Blackburn. The Republican congresswoman from Tennessee is perhaps best known for her "witch hunt" against Planned Parenthood.
Blackburn is the head of the Select Investigative Panel on Infant Lives, which was formed last year to investigate whether there was a link between abortion doctors and fetal-tissue research. After names of medical professionals were released to the public this summer, Democrats called out the panel for its "reckless disregard" for the safety and privacy of doctors and researchers. In September, Democrats walked out of a Planned Parenthood hearing before the panel, ThinkProgress reports.
So if one thing's for sure in this time of uncertainty, it's that the woman spearheading the fight against Planned Parenthood in Congress is helping to shape the country's future.