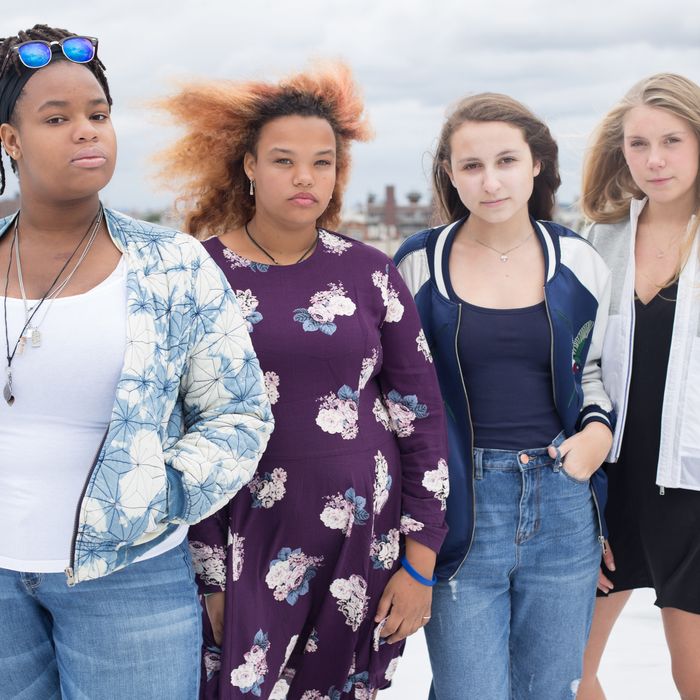 When you take a bunch of middle schoolers to the Flame Diner, you expect them to jump at the opportunity to crush milkshakes, but the 14-year-olds in riot grrrl band Harsh Crowd have bigger things on their minds. Like many New York City kids, they're preoccupied with which high schools they'll be attending in the fall. Oh, and they also have some thoughts about feminism, the music business, and the time they met Santigold.
The members of the alt-rock quartet met in 2013 at Brooklyn's Willie Mae Rock Camp for Girls, which offers everything from instrument instruction to a class on the history of the music business. Before releasing their second EP Better (out today), they created buzz beyond the school-talent-show circuit — opening for Mac DeMarco at his request, and booking a show alongside OG riot grrrl Kathleen Hanna with the Julie Ruin this month. Being young and adorable isn't the only thing they have going for them, not that it doesn't help.
Harsh Crowd might have a better grasp on the music industry than those in charge of it, and they can definitely school most adults on gender politics. "We want to bring out the image that women and children under the ages of 18 or 21 can do the same things that any adult or male can do," explains Lena, the drummer, whose father coordinates the group. "It shouldn't be something special or out of the box."
Which is not the same thing as reducing their entire mission to being a feminist band. "Feminism is in the eye of the beholder. It is what you believe it is for you and it depends on how you read it. Just calling us a feminist band is a pigeonhole in a way," lead guitarist Dea says.
Better is proof they're taking all the right cues from their mentors, like coach Caryn, a camp volunteer who plays metal and joined them at the table. The rage-filled political song "Clowns" asks the 99 percent to rise up against the Establishment, while "Cardboard Steps" has Celtic overtones reminiscent of the Cranberries. Sure, there are plenty of moments that remind you they're 14 — the familiar whoa's on "Grimm," the difficulty of making out their lyrics during live sets — but they have plenty of time to nail down what makes them sonically unique and to evolve, both as artists and activists.
Although Harsh Crowd is a name they came up with after rejecting all the other options, it can be read as a nod to the tough critics who end up in their audience. Their show with Mac DeMarco at the Market Hotel last spring was a fundraiser for Willie Mae, but many attendees didn't seem to understand there was a cause attached. They were confused by the kids onstage, and just wanted to mosh for the second band. But like true punks, Harsh Crowd feeds off the skepticism. Dea laughs, "It's fun to see the initial reaction onstage and the difference after we play. A lot of places that were 21 or over, especially when we were much younger, it was like, 'Who brought their kid here?'"
Of course, in Bushwick, it's hard to tell who's a teen, since everyone dresses like they're channeling their younger selves. The Market Hotel serves wine out of a box, but the boy with the great fro has his dad in tow, and a couple of prepubescent boys slap each other's butts as Harsh Crowd screeches angsty lyrics about "Mom and Dad." Lena will ultimately leave early — it's a school night — but they'll find out later that they raised $10,000.
Onstage in flannel and a choker, her back to a window giving onlookers on the Myrtle-Broadway subway platform a free view into the space, Willow runs her fingers through her curly hair with the confidence of someone who's studied the gestures of the rock stars who came before her. A lover of K-Pop, Willow writes most of the band's lyrics in a secret notebook. She keeps her cool performing Radiohead's "Creep," not once trying to emulate Thom Yorke's infamous arm-dancing.
Offstage, at the diner, she seems more shy. She and bassist Rihana rarely chime in as Lena and Dea steer the conversation, talking about their single "Four Walls." It includes a joke inspired by coming across a foot fetishist online, but in general, they don't feel an obligation to sing about the condition of being a woman — most of their songs are the product of "messing around," they say.
For the "Four Walls" video, they asked celebrities to sing the chorus "Keep standing tall," figuring recognizable faces might be more inspiring. Their requests yielded cameos from Andrew W.K. and a member of the Ramones.
Dea remembers coming face-to-face with band role models Santigold and Kathleen Hanna at a benefit. "When we met them, we were like, 'Wow, this is a huge deal. We're getting to meet other kickass women who have made it for themselves,'" she said. "It just shows people do it. It's not a big deal — we can do it, it happens all the time." If Harsh Crowd keeps it up, it might well happen for them.