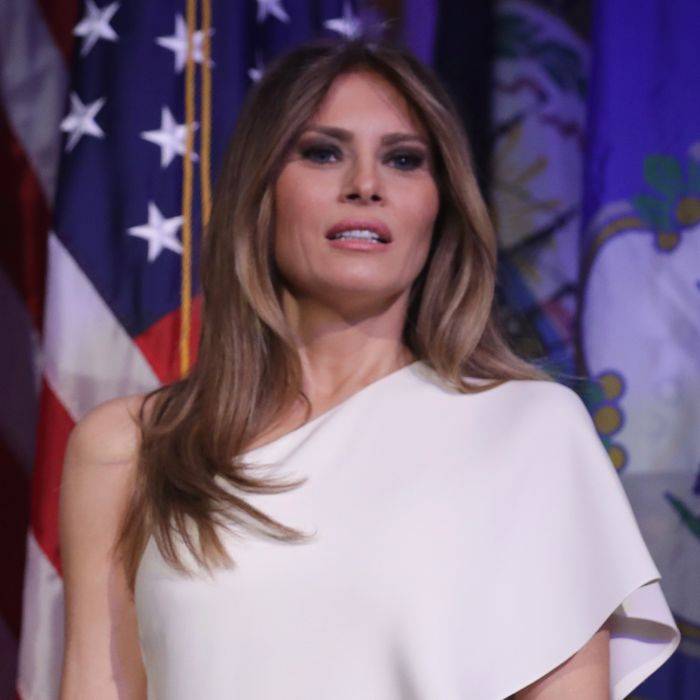 Blink twice for help.
Photo: Chip Somodevilla/Getty Images
On Saturday Night Live, Melania Trump dreamed of escaping Trump Tower and exploring the world outside. Sidewalks! Parks! Strangers! Alas, the real Melania Trump and her son Barron are staying in Trump Tower instead of heading to D.C. after Donald Trump's (shudder) inauguration.
According to a source for the New York Post, "Melania is extremely close to Barron, and they have become closer during the campaign … The campaign has been difficult for Barron, and she is really hoping to keep disruption to a minimum." The source added that the future First Lady is "really devoted" to her son. "Melania has not relied on nannies to raise the child and is frequently seen picking the fourth-grader up from his prep school, where tuition is north of $40,000."
The area around Trump Tower has already become a total hellscape, with only foot traffic allowed on West 56th between Fifth Avenue and Madison, and anyone foolhardy enough to walk down that block is subject to search. People who live, work, or visit the area can expect more of the same once Trump takes office.
Update:
The Daily Beast reports, "On a call with reporters later Sunday morning, communications director Jason Miller said it has not yet been decided whether Barron and Melania will stay in New York, but added there is 'obvious sensitivity' in pulling Barron, 10, from his school in the city's Upper West Side before the end of the school year. NBC's Kelly O'Donnell later reported that the pair will move to the White House at the end of the school year in mid-2017. Miller said the Trump transition team will be releasing a formal statement on the matter soon."
Later Sunday afternoon, Trump confirmed he will be living in the White House. When asked about Melania and Barron's plans to move, he replied, "Very soon. After he's finished with school."