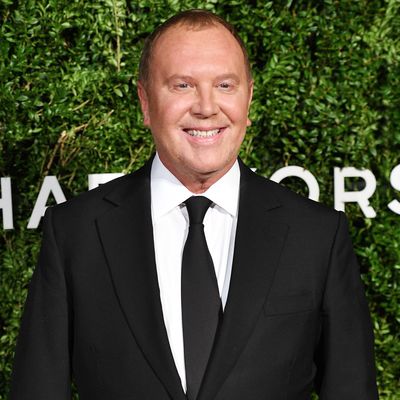 Michael Kors.
Photo: Dimitrios Kambouris/Getty Images for Michael Kors
Holiday travel is stressful, but not in the idyllic world of Michael Kors. Since the brand first launched in 1981, the ads have depicted glamorous, tan women and men stepping out of helipads, luxury cars, private planes, Italian speedboats, and yachts (with no lost baggage). The most recent launch in the designer's jet-set lifestyle empire is a new fragrance, Wonderlust. We caught up with him to talk plane uniforms, his favorite hotel in the world, and the best meal he's ever had abroad.
1. My first scent memory is:
In the '70s, my mother wore Aliage and my grandmother loved Joy, so I grew up with this mix of sporty citrus and lush florals.

2. Best thing I ever ate while traveling:
A plate of spaghetti alle vongole overlooking the Faraglioni at La Fontelina in Capri.

3. If I could teleport myself and a loved one to any place in the world, it would be _____:
Africa. Nothing comes close to seeing and experiencing Africa up close. It's a true rush for the senses.
4. My travel uniform for a long-haul flight:
Olive cargo pants, a black tee, a black cashmere hoodie, driving loafers, and aviators.

5. How I eat on planes:
I don't drink, and always go for protein and no dessert. I prefer a quick meal so I can go to sleep.

6. Planes, trains, or automobiles?
It depends on where I'm going. I take a car in the city so I can watch the street style. If I'm going somewhere quick, like Philadelphia or Boston, I'll take the train — I already spend a lot of time in airports and I find trains relaxing. And then anything farther than that, I'll fly.

7. My dream in-flight entertainment would be:
A Broadway play.

8. My favorite hotel in the world and why:
The Amanzoe in Greece. All of the Amans have the perfect blend of luxury service and natural beauty.

9. My worst travel story:
We got stuck in Atlanta en route to Africa because of passport issues. Shopping in an Atlanta mall in August can't compete with an African safari, but we made the best of it.

10. If I were on a 24-hour flight, my ideal seatmate would be:
My husband, Lance. We both think of a flight as a moment to relax and unwind. We're totally in sync.

11. My airport-food guilty pleasure:
Stopping at In-N-Out for a perfect burger before I leave Los Angeles. They have a location right at the airport.