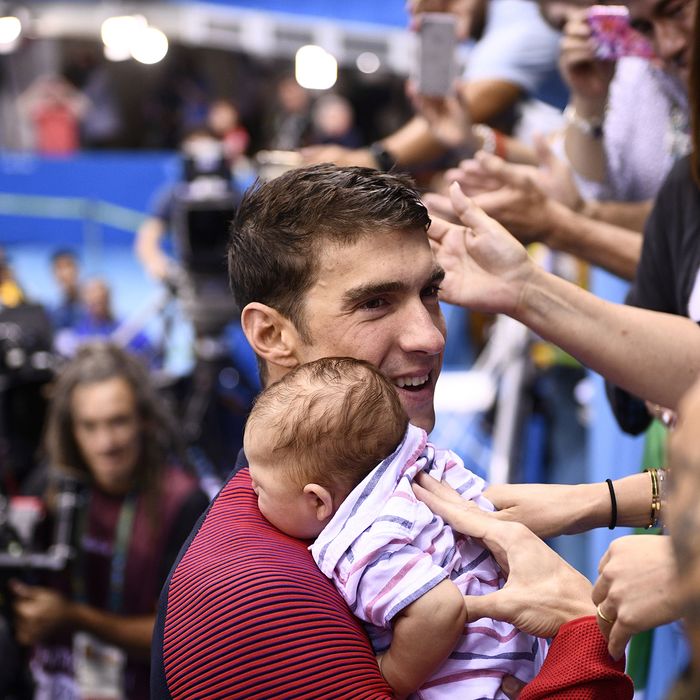 Michael Phelps and his son, Boomer.
Photo: MARTIN BUREAU/AFP/Getty Images
It might be a little hard to believe now, but once upon a time Michael Phelps was a pretty darn nervous kid when it came to getting in the water. And now that his son, Boomer, is taking his first swim lessons, Phelps is finding that his son might share a similar initial apprehension about being in the water. "His biggest thing is going under water, but he's getting better!" Phelps said to a camera as he shared one of Boomer's swimming lessons on Facebook Live.

Judging from the video Phelps shared on Facebook, it seems that baby Boomer is otherwise pretty chill with being in the water — so long as he's being gently held by someone else. The swimming coach who helped Phelps learn how to swim as a kid, Cathy Bennett, was also in the pool to help 6-month-old Boomer adjust to the pool water. And the kid eventually got so cozy that Bennett joked he was falling asleep. "He really does go to a happy place, just like Daddy when he's in the pool," Phelps said, according to E! News. That is, Boomer is in a "happy place" when his face isn't touching the water (baby steps!). "He put his face in and he didn't really like it too much, but now he's grabbing on for dear life," Phelps said in the video.

There's plenty of hope, though, for 6-month-old Boomer to follow in his dad's footsteps — erm, strokes? — and become a history-making Olympian. This is, after all, only his fifth swimming lesson.

See the whole thing here.