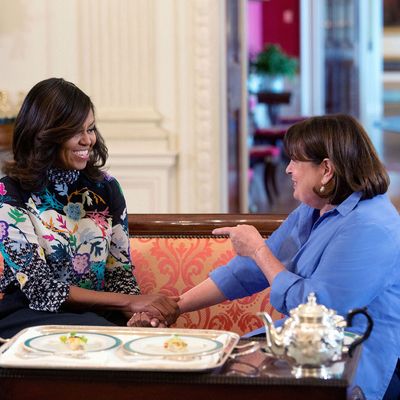 Photo: Amanda Lucidon/The White House
If you rely on Ina Garten's Barefoot Contessa as a form of escapism, you might want to know that she has a new one-hour special coming out called Barefoot in Washington, in which she visits several D.C. locations — most notably the White House, where she visits the garden, cooks in the White House kitchen, and then eats a snack with Michelle Obama.

In a new clip from the special, we're treated to just over a minute of Ina Garten and Michelle Obama complimenting the shit out of each other (while POTUS and Jeffrey are presumably hanging out in another room).

Garten expresses her sadness to see Obama end her time as First Lady, though she says, "I know it's going to be wonderful for you. You're going to do something extraordinary going forward."

"Yeah, I'm going to come and eat at your house," Obama jokes back. And then they laugh and toast with tiny vegetable tarts before eating them, just like that recurring dream you keep having.
Barefoot in Washington airs on Saturday, November 5, at 1 p.m., on the Food Network — perfect to watch on loop all the way through November 8.