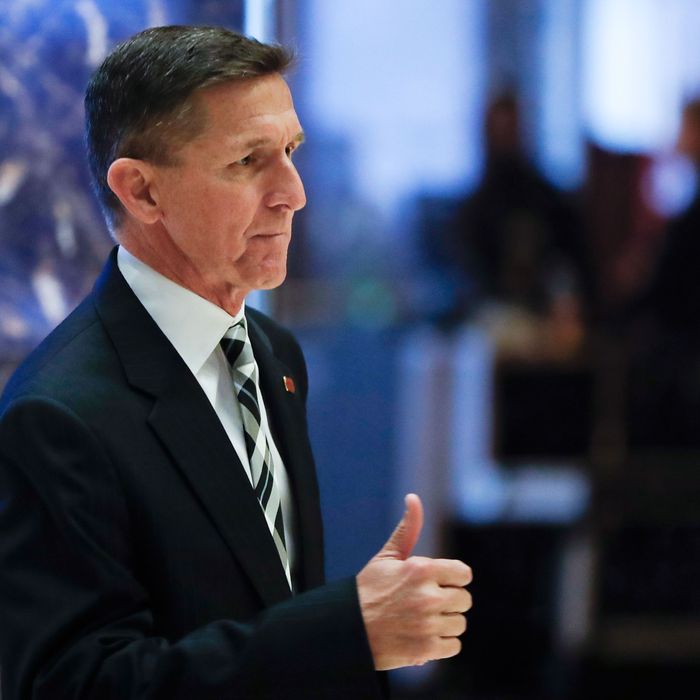 Mike Flynn sang Milo Yiannopoulos's praises over the weekend.
Photo: Carolyn Kaster/AP
Mike Flynn, whom Donald Trump has tapped to be his national security adviser, regularly interacted with alt-right figureheads online, and over the weekend he expressed his support of one — Milo Yiannopoulos — offline, too. According to CNN, when Flynn spoke to a gathering of young conservatives at Trump's Washington, D.C., hotel, he brought Yiannopoulos up, calling him "phenomenal" and "one of the most brave people I've ever met."
"See, a lot of people in here won't know who he is," Flynn said, referring to Yiannopoulos. "I tag him on Twitter, you know, because he's a phenomenal individual, and I'm mentioning him tonight because he spoke alongside of me last night to another group of folks."
He went on, "He's definitely, he's one of the most different, one of the most brave people that I've ever met. We have different views on different things, but he is deeply, deeply conservative in his views about this country. So he is going around this country at the undergraduates, at our colleges and our universities, and he is fighting for you, for all of the people in here."
Yiannopoulos, who routinely wrote articles for Breitbart News such as, "Does Feminism Make Women Ugly?" and "There's No Bias Against Women in Tech, They Just Suck at Interviews," was banned from Twitter earlier this year for spearheading racist and sexist attacks on Leslie Jones for her role in Ghostbusters. In a column for Breitbart, he called the ban an attack on free speech.
The relationship between Trump's administration and the alt-right has been the subject of much speculation, particularly since he named Breitbart's Steve Bannon to the role of chief strategist. Trump later said in an interview with the New York Times that he "disavow[s] and condemn[s]" the alt-right and white nationalists, but that doesn't necessarily hold true for members of his cabinet.