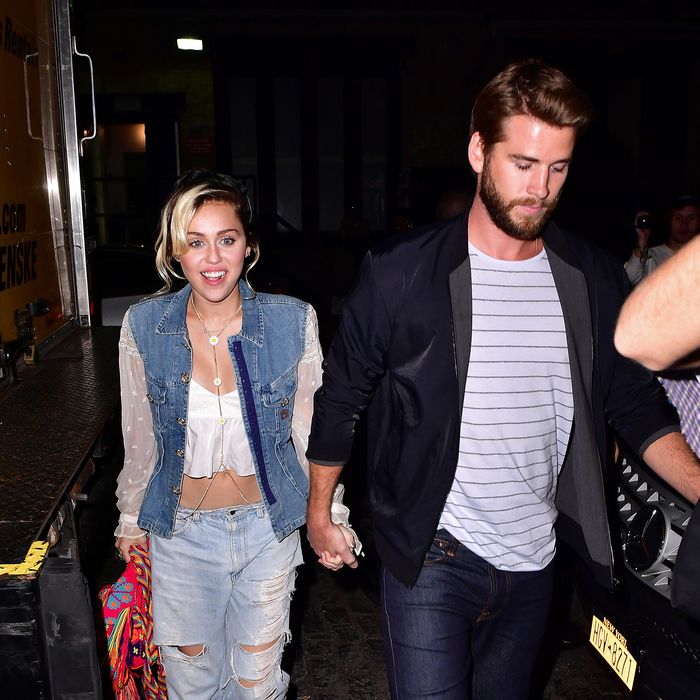 Miley Cyrus and Liam Hemsworth.
Photo: James Devaney/GC Images
It seems like Miley Cyrus and Liam Hemsworth are becoming more and more comfortable publicly stepping out as a couple. The two were previously engaged, but broke it off, only to reconcile once more earlier this year. Since then, they've kept a low profile. But if time heals all wounds, then time is also helping the two adjust once again to doing pretty normal couple stuff, too. Take, for instance, their latest outing together over the weekend at an art gallery. No paparazzi was needed to document the couple together — heck, they even took a selfie!

The two were in Los Angeles in support of Cyrus's friend and photographer Vijat Mohindra, who was showing at the contemporary art gallery Museum as Retail Spae (MaRS). In the exhibition, titled "Always Believe That Something Wonderful Is About to Happen," Mohindra "presents a series of photographs, produced over the past ten years, that first strike with their hypersaturated hues of yellow, red and blue," according to the gallery's website. Cyrus attended the show fully in line with the exhibition's color scheme, wearing a bright-yellow outfit and an oversize flower corsage. She apparently also coordinated with Katy Weaver, the girlfriend of Wayne Coyne of the Flaming Lips, who was also in attendance and wore a crayola-red suit.

Hemsworth, for his part, also seemed to be having a blast. Does this mean we can expect more selfies in the future? Coordinating outfits? Or must we not get too ahead of ourselves?