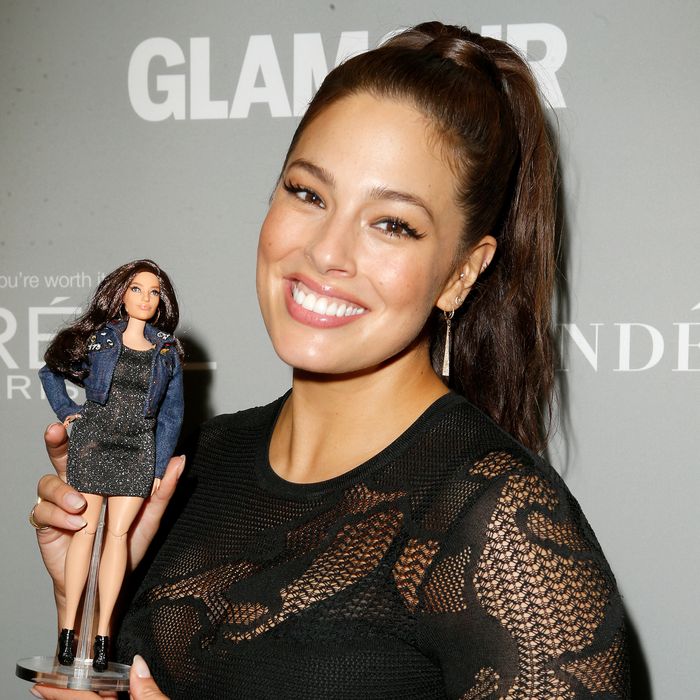 Ashley Graham and her mini-me.
Photo: Jeff Vespa/Getty Images for Glamour
When Mattel first approached Ashley Graham about making a Barbie doll in her likeness, the body positive champion and plus-size model had one request: Could the thighs touch? Oh, and what about a little cellulite?
"She had to have her thighs touch," Graham told The Hollywood Reporter. "No ands, ifs or buts about it. And I asked for cellulite but obviously plastic and cellulite don't go hand in hand." But the end result was one that Graham was more than happy with. "She got a round belly," she told Glamour. "She got round hips. She got round everything, yes!" Mattel presented with Graham with her personalized Barbie doll at the annual Glamour Woman of the Year Awards on Monday night as a tribute to the model's advocacy and achievements.
Her doll is part of Sheroes, a capsule collection of Barbies made in honor of other outspoken women in entertainment and fashion like Zendaya, Ava DuVernay and Misty Copeland. The toy company doesn't currently have any current plans to market Graham's Barbie at stores nationwide, though, as USA Today points out, previous dolls have gotten so much attention that they eventually went on sale. Given Graham's growing popularity and the tide of the body positive movement, there's no doubt there are some parents out there really hoping to buy the model's mini-me version.

Just take a look: