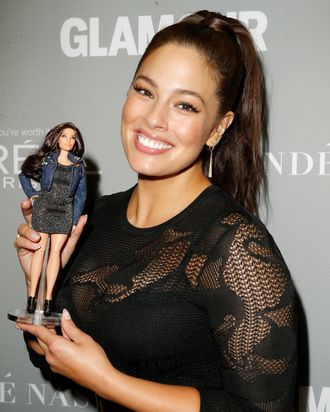 Ashley Graham and her one-of-a-kind Barbie "Shero."
Photo: Jeff Vespa/Getty Images for Glamour
When Ashley Graham first saw the Barbie version of herself on Monday, she lifted up the doll's skirt with her index finger so she could inspect its loins. She was onstage at Glamour's Women of the Year awards, and wondered aloud, "Are her thighs touching?" She confirmed that fact then triumphantly announced to the audience, "HER THIGHS ARE TOUCHING!"
Graham's No. 1 request to Mattel was that her doll iteration not have a thigh gap. But she was also checking to see if her Barbie had on the lingerie that was custom-made to look like her line for Addition Elle. For the record, the body-image activist also has her own swimwear and apparel collections with Swimsuits for All and Dressbarn and, in February, she became the first model larger than sample size to appear on the cover of Sports Illustrated's swimsuit issue. This year, she also made out with Joe Jonas in DNCE's "Toothbrush" video and landed the August cover of Cosmopolitan. She's been dominating, to say the very least, and curvy women have taken notice.
Graham says she's been flooded by emails and comments on social media all getting at the same thing: Finally, there's someone who looks like me.
"They're seeing somebody who appreciates the things about their own bodies that haven't been celebrated, like cellulite and back fat," Graham told the Cut. "These women never had a curvy role model growing up who not only looked like them but was also outspoken about what they go through."
Mattel has long been criticized for promoting unhealthy body images through its Barbie dolls, but the company has made strides to be more inclusive: Earlier this year, it launched a Fashionistas line with tall, petite, and curvy dolls, plus options for different skin and hair colors. Graham told Access Hollywood that she was thrilled about the new dolls and Mattel saw the interview and reached out.
Her doll is complete with a round belly, round arms, and, yes, thighs that touch. She's even wearing an outfit that Graham has worn: an Opening Ceremony dress, Sonia Rykiel cropped jean jacket, and Pierre Hardy boots.
Graham did ask if the doll could have cellulite like she does, but the company told her that putting bumps in the plastic might have seemed like a production mistake, so they agreed not to do it.
But you can't actually buy the Ashley Graham Barbie — not yet, that is. It's part of the Barbie Sheroes program, which has created one-of-a-kind dolls to honor groundbreaking women including director Ava DuVernay, actress Zendaya Coleman, gymnast Gabby Douglas, and ballerina Misty Copeland. Copeland's doll was put into production and is available now, and DuVernay's was released last year after huge demand but is sold out. Graham says if there's enough interest, Mattel may make her doll. If that happens, the bra and panty set would come in its own box so, as she says, "when it's time to relax with a glass of apple juice, you can put on your lingerie."
Even if Graham's doll never hits shelves, this is an important step for body positivity and women's confidence in general. "Now you can actually look at Barbie and not think 'I want to be Barbie,' you can look at Barbie and all of her friends and you think 'I am Barbie.'"