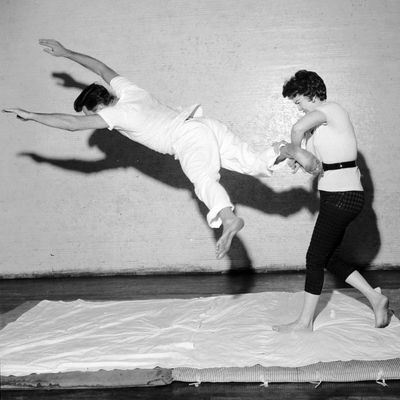 Photo: Jacobsen/Getty Images
Immediately following Donald Trump's win, an increased number of assaults and incidents of harassment against people of color, Muslims, women, and LGBT couples was reported. And as his supporters may feel more galvanized to act out, those they're targeting are gearing up to protect themselves.

In a new article in the Daily Beast, Erin Gloria Ryan writes that in New York City in particular, there's been a massive increase of people signing up for self-defense classes — and the schools that teach them say that "women, Muslim Americans, and LGBTQ individuals account for an uncharacteristic portion of the latest barrage."

Tracy Hobson, who runs the Brooklyn-based Center for Anti-Violence Education, says this is the largest uptick in interest she's ever seen in the 42 years since her organization was founded. Per the Beast:

Hobson says her organization has fielded requests from upstate New York, from North Carolina, from Pennsylvania. In one case, a Muslim-American group requested self-defense training for 7,000 people. Hobson says 300 people RSVP'd to a multiweek self-defense and violence de-escalation workshop the organizational periodically offers. Their facility can accommodate 25 at a time.
Those at the Krav Maga Institute and Female Awareness Self Defense also reported increased attendance in their classes. And some schools are adapting seminars to fit the type of protection their new clients might need. As René Dreifuss of Radical MMA explains, "In hate crimes, the patterns of attack can be very different [than non-hate crime attacks]."