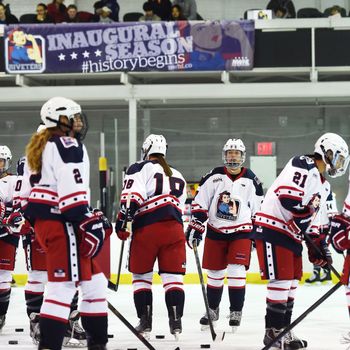 New York Riveters.
Photo: JEWEL SAMAD/AFP/Getty Images
The National Women's Hockey League — the first professional hockey league to pay women players regular salaries — is only in its second year of existence, but it's already had to slash players' salaries in half to "save the season," the Buffalo News reports.
Since its founding in 2015, the league's players have been earning between $10,000 and $26,000. The new salary cuts were made without consulting the players' union, and the salaries of league and team management won't be affected, according to Deadspin. Players will have to sign an addendum to their contract agreeing to the pay decrease, though they will still receive a 15 percent commission on sales of their jerseys, the Buffalo News reports.
Commissioner and league founder Dani Rylan told reporters on Friday that the cuts were made as a business decision. "We fell short on some projections and had to pivot away from that decision. The decision was, do we want to exist? Do we want to save the season? We had to make the appropriate decisions to do so," Rylan said.
Rylan wouldn't confirm or deny that the salaries were slashed at exactly 50 percent, though players have not disputed that figure, Deadspin pointed out. Many of the league's office personnel work on a volunteer basis, according to Rylan, but the higher-ups receive a salary, per Yahoo Sports.
Ashley Johnston of the New York Riveters, one of the NWHL's four teams, posted a statement on behalf of the league's players on Friday: