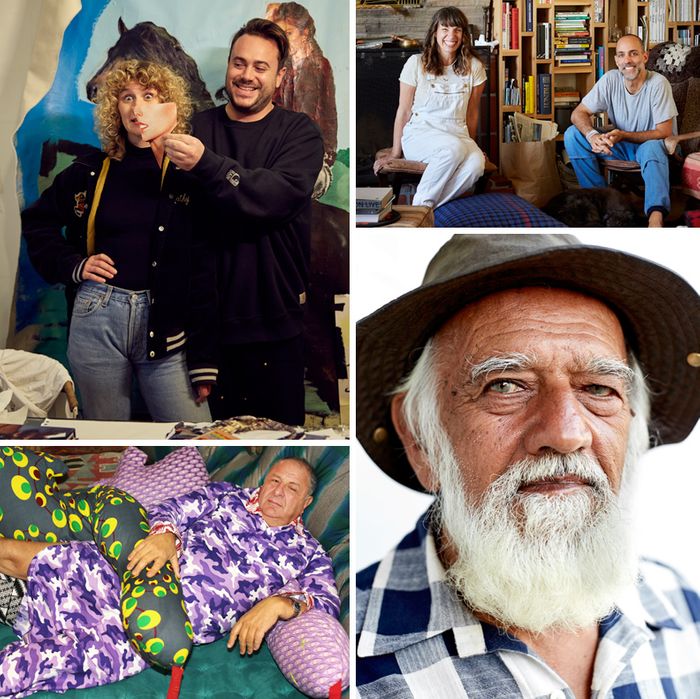 Contributors to the fashion line Everybody.
Photo: Courtesy of Everybody
Jean Pigozzi's pixelated image greets me at the entrance to his apartment. A Post-it affixed to an iPad directs me to "press play," and with a tap of my finger the art collector and Instagram sensation greets me with a succinct message: "Welcome to my house!"

Pigozzi is not here, corporeally speaking, but he is one of the "designers" of the new conceptual fashion line Everybody, which marks what might be the first attempt to design a fashion line by committee. American Apparel alums Iris Alonzo and Carolina Crespo came up with the idea, turning to friends, and friends of friends, and even passersby (like a 70-something man who plays chess in the park in Alonzo's L.A. neighborhood) to turn their hand to design. Most of them had never designed before.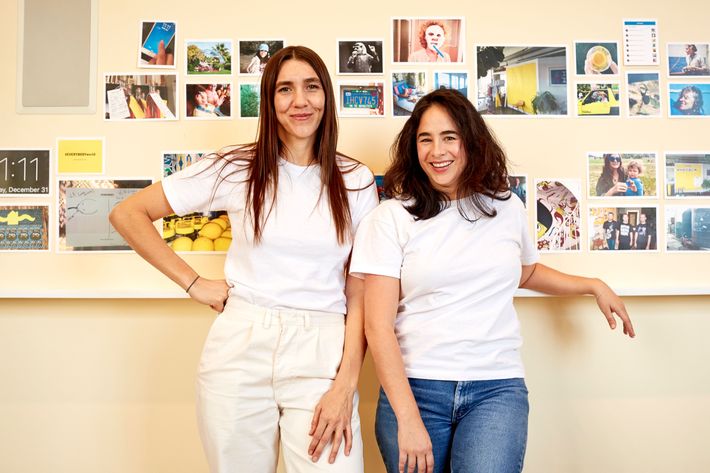 The duo likens their approach to that throwback phenomenon, the chain letter. "Remember, back in the '80s, you would die if you didn't forward it?" says Alonzo, who is taking me through the line, currently housed in Pigozzi's Memphis design-heavy apartment. "It's like that, except nothing bad will happen. Only good things will happen!" Rather than seek out high-profile collaborators or seed their product with Instagram influencers, they reached out to people who are, in many cases, unknown to the fashion world at large — both as potential designers and potential customers. Their marketing campaign consists of contacting friends, who will be asked to contact five of their friends and so on, all of whom can pick out a piece from the line and receive it free of charge. (Alonzo insists there's no tit for tat involved: "If you like it, let us know and let other people know. If you hate it, let us know so we can fix it" was her message to what she calls the "contributors.") That means the line's reach could extend all the way from Alonzo's mom to "whoever Jean Pigozzi's favorite person is, who could be Mick Jagger. Who knows!"

Alonzo, who brings an evangelical verve to discussing things like pocket lengths, is building the collection around seasonless basics. First up: slightly boxy $25 T-shirts made from recycled thread. (The line will also wholesale shirts for companies or bands — which, considering the ever-swelling popularity of merch, is a canny brand extension.) The brand will be sold online and direct to consumer, with new product added every week — sweatshirts and denim will probably be on the docket next. Then there's the showier part of the equation: the limited-edition clothes, home items, and objets designed by their range of collaborators.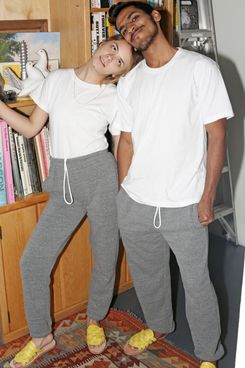 The concept plays perfectly into fashion's ongoing discussion of "real people" — British Vogue devoted a whole issue to these mysterious creatures, touching off a debate about who does and doesn't qualify as "real." (Some would argue Karlie Kloss is as much a real person as you or I, impeccable eyebrows aside.) Still, the designs do keep the designers' real, everyday lives in mind. For instance, the Instagram artist Kalen Hollomon and his girlfriend, photographer Mae Elvis, helped design a utilitarian blue coat that evokes, Alonzo says, "street fashion meets war reporter." Hollomon insisted on a pocket for his Sharpie and an X-Acto knife; Elvis wanted it to tie flatteringly high on the waist. Meanwhile, Pigozzi designed an oversize, snake-shaped pillow in a loud Dutch wax fabric — less of an everyday item, but very much in keeping with his lifestyle.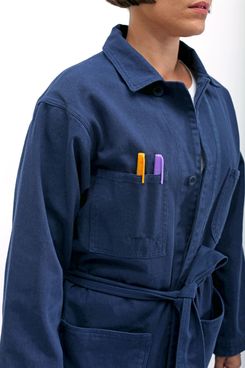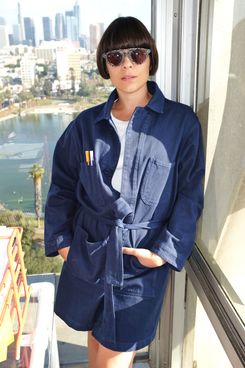 Alonzo says her criterion for finding collaborators is simply "Who has good ideas? I don't care who they are." And so she recruited a photographer-slash-musician — who goes by the moniker Grandfather — at his day job, working at Trader Joe's. (Everyone in the world of Everybody seems to ply a minimum of three trades.) "He's very inspired by color-blocking," Alonzo says, showing off blue and brown fabric swatches that will be used on a shirt and pants. Alonzo's chess-playing neighbor was recruited next: She told Crespo, "Carolina, we've gotta talk to that guy in the park, because he's so cool." The man, Prakash Gokalchand, designed a button-down shirt and a pair of sweatpants for the line, and turned out to be one of the most exacting people they worked with. While designing the shirt, he saw and rejected over 100 fabric swatches. "He just shot us down," Alonzo says. He specified that the sweatpants needed a cotton drawstring and a narrow waistband, and that the pocket on the shirt had to be at least four fingers wide. For Alonzo, he's the perfect example of an influencer in the nontraditional sense of the word. "He doesn't even have a cell phone, let alone an Instagram following."
Other contributors have glossier pedigrees: photographer Danielle Levitt, model Adwoa Aboah, and author Dallas Clayton. Crespo and Alonzo say they'd love to work with Barbara Kruger, Hari Nef, Maya Lin, Lupita Nyong'o, and the marine biologist Dr. Sylvia Earle. "She's devoted her life to doing anything she can to save the oceans, and she has great taste," Alonzo says. "Maybe she'd do a swimsuit for us."