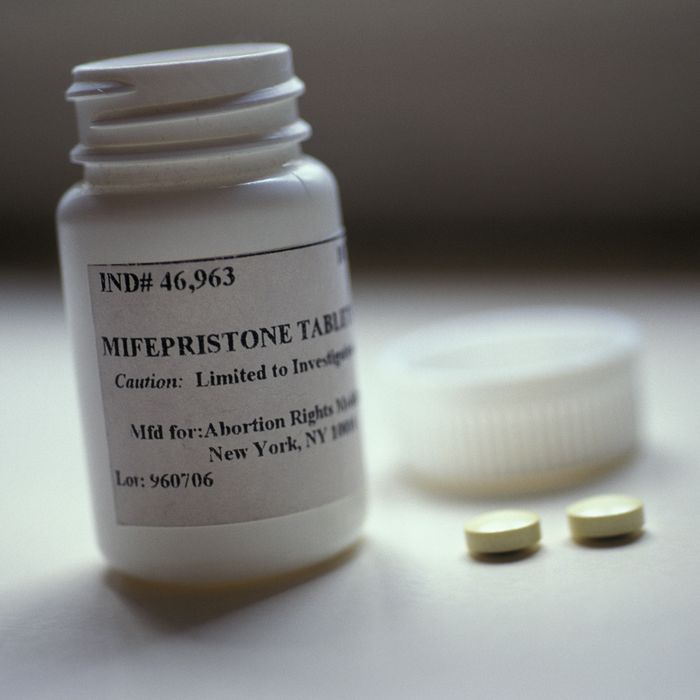 Photo: James Leynse/Corbis via Getty Images
A new study is under way in four states that examines the feasibility and safety of women getting abortion pills by mail. The small study, currently only available in Hawaii, New York, Oregon, and Washington, aims to analyze the effectiveness of "telemedicine" as a way to increase access to abortions for women who might otherwise have trouble getting to a clinic.

The TelAbortion Study allows participants to remotely consult with an abortion provider via a video conference (i.e. a webcam and internet access). After a undergoing a medical screening, an ultrasound, and some blood testing, qualifying candidates are then shipped two abortion-inducing pills via overnight mail, according to the New York Times. Medical abortions (those not requiring surgery) currently take place under the supervision of a medial provider as the pills are not allowed to be sold in pharmacies. Medical abortions are currently allowed only during the first ten weeks of pregnancy, and they occur when a woman takes two pills, mifepristone and misoprostol, and essentially induces a miscarriage. The same process takes place at abortion clinics and hospitals, with women taking the first pill under the supervision of a medical provider.
With the dwindling number of abortion-providing clinics in certain parts of the country, so-called "telemedicine" might offer a new alternative. Since mifepristone (marketed Mifeprex) was approved by the Food and Drug Administration in 2000, more than 2.5 million women in the U.S. have had a medical abortion, according to the study's website. Still, Danco Laboratories, the company producing the pills, told the Times that it has no plans to more widely distribute them. "Abortion is a politically charged issue in this country, and there is an extra degree of caution," the company's spokeswoman, Abby Long, told the Times, adding that more research is needed to justify an expansion.