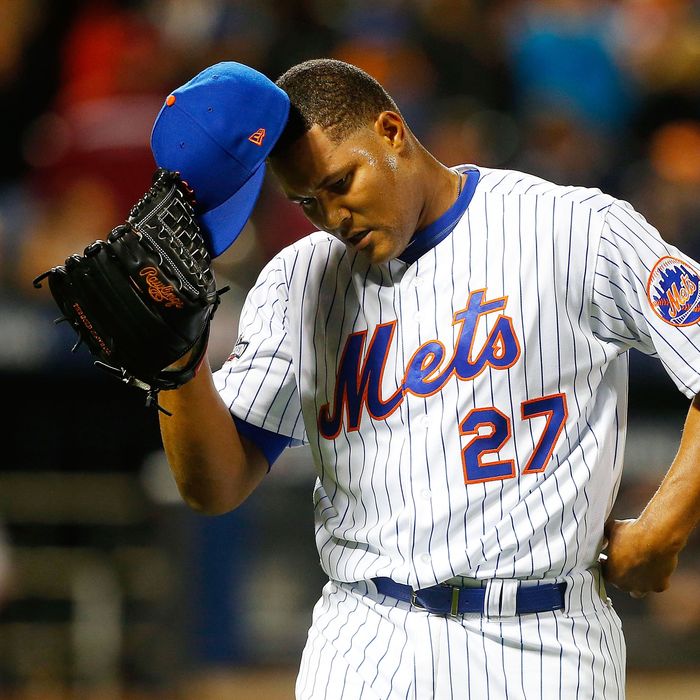 Jeurys Familia.
Photo: Jim McIsaac/Getty Images
New York Mets pitcher Jeurys Familia was arrested on a domestic-violence charge this week, shortly after starring in a new anti-domestic violence ad campaign, the Record reports.
Authorities filed a complaint in Fort Lee municipal court, accusing Familia, 27, of causing "bodily injury to another," whose name was redacted. Police wrote that they observed "a scratch to the chest and a bruise to the right cheek of the victim," the Record wrote. In the complaint, police said they found probable cause "to believe that domestic violence occurred."
Familia, who is identified as Jeurys F. Mojica in the complaint, was charged with simple assault, a disorderly persons offence; further details remain scarce. "The matter was brought to our attention and we are monitoring the situation," the Mets said in a statement Tuesday.
The baseball player had been living with his wife, Bianca, and their 1-year-old son in Fort Lee, and last month, he participated in a National Coalition Against Domestic Violence ad campaign that featured local professional athletes. In the ad, the Dominican Republic native said in Spanish, "I am not a fan of domestic violence."