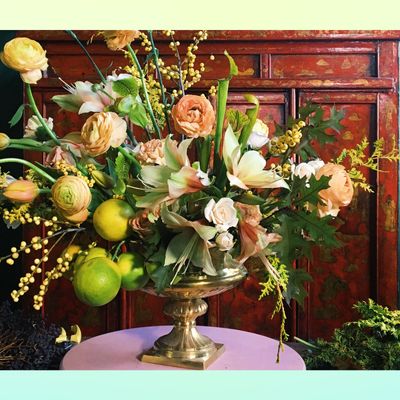 The finished arrangement at Putnam & Putnam.
Photo: Emily Sundberg
Pretty Things: A weeklong break from reality, dedicated to beautiful objects.

A New York studio apartment that never looks bright enough. The gift you need to buy at 6 p.m. on a friend's birthday. The doodle you're drawing in the corner of your notebook in a mid-week meeting in order to stay awake. For so many little problems in life, the answer is flowers.
The Cut talked to Darroch and Michael Putnam, the florists behind Putnam & Putnam, about how to create a beautiful bouquet. The couple — they fell in love after meeting in line at Trader Joe's — used their Brooklyn studio to demonstrate how dramatically a few flowers can change a room. The space seemed clean, bright, and chilly when we entered, but as they lit their namesake candles and began unpacking their brown paper–wrapped wares, it transformed. "Even just getting a vase with a single stem," Darroch explained, can add life into any room, whether it's a succulent or a bodega bouquet.
Darroch and Michael started their company in the spring of 2014. With backgrounds in design and photography, the duo specializes in editorial, weddings, and large-scale installations. Watch the video above to see them do a not-so-large-scale installation, and talk about pretty things.