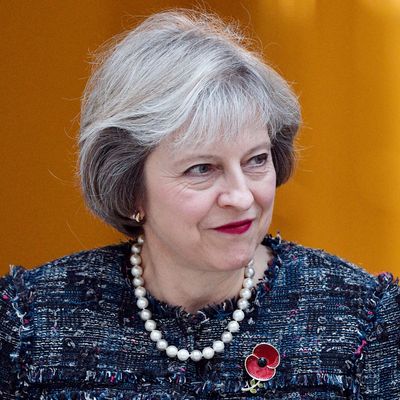 British Prime Minister Theresa May.
Photo: Carl Court/Getty Images
On Tuesday, the United States voted into office a man who's been accused of touching more than a half-dozen women inappropriately without their consent. So in a radio interview just before he flew to the U.S., British politician and Brexit leader Nigel Farage joked that he'd stop the president-elect from groping Britain's female prime minister, Theresa May.
Farage has been an outspoken supporter of Trump's campaign from the get-go, and he told the show's host that he's hopeful he and Trump will work together. "That Obama creature — loathsome individual — he couldn't stand our country," he said, according to The Guardian. "He said we'd be at the back of the queue, didn't he?" He went on to explain his support for Trump:
"What was interesting was that Trump said we'd be at the front of the queue. However imperfect Donald Trump may be, and my goodness he is, his mother was Scottish, he owns Turnberry, he spends a lot of time in our country, he loves our country, what we stand for and our culture."
He then joked about Trump meeting May, laughing and saying, "Don't touch her, for goodness' sake!" He went on, "If it comes to it, I could be there as the responsible adult role, to make sure everything's okay."